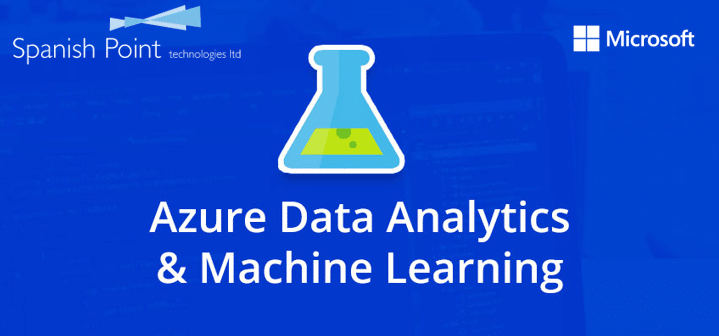 Easily build, deploy, and manage predictive-analytics solutions.
Learn about Microsoft's latest innovations in Data Analytics & Machine Learning at our event on Wednesday 26th September
Microsoft and Spanish Point are delighted to be hosting a joint event where we will be examining how you can achieve a competitive edge with data and AI.
"The core currency of any business will be the ability to convert their data into AI that drives competitive advantage". Satya Nadella, CEO Microsoft
Agenda
Date:  Wednesday, 26th September 2018, 9:00 am to  1.30 pm
Location: One Microsoft Place, South County Business Park, Leopardstown, Dublin 18, D18 P521
09:00 AM – 09:30 AM
Registration & Refreshments
09.30AM – 10:00 AM
Welcome & Keynote, Ger Perdisatt, Director – Enterprise Commercial Sales & Donal Cullen, CEO Spanish Point Technologies
10:00 AM – 10:30 AM
The Azure Data and Analytics Platform

Data Storage, Ingestion and Transformation

10:30 AM – 10:50  AM 
Coffee Break
10:50 AM – 11:20  AM
Machine Learning demo
11:20 AM – 11:50 PM
Customer Story – National Treatment Purchase Fund
12:00 PM  – 12.45 PM    
Microsoft Tour
12:45 PM – 1:30 PM
Lunch & Networking
Using the power of advanced analytics, machine learning, and AI, businesses can derive insights to help optimize operations, drive innovation, and deliver value to the company and its customers.
Now, more than ever, intelligence is key. Data alone doesn't help business leaders transform their organizations. Advanced analytics and Machine Learning provide the insights for data-driven decisions that drive our business forward.
Unite the data: Unlock the power of AI by consolidating data from different systems, technologies, and locations into data estates to enable broader connections and insights.
Unleash insights with machine learning: Bring the power of advanced analytics, machine learning, and AI to derive insights from data. These insights bring increased value to organizations by optimizing operations and facilitating the development of more innovative products and services.
Inform decisions through visualised data: Use data to influence every decision with dashboards that intuitively visualise data, facilitate deeper analysis, and inform decisions.
Embrace intelligent agents: Build intelligent agents that give customers and employees the information and help they need when they need it— empowering employees to do more while streamlining operations.
Register today to achieve a competitive edge.