We've seen an explosion in the number of virtual interactions in the last year, with people collaborating more frequently and across more applications than ever before—both inside and outside their organisations.
The challenge today is how we can get from simply adapting to thriving with hybrid work?
The answer lies in the ability to bring people, processes, and insights together to unlock seamless and secure collaboration and accelerate innovation and learning right in the flow of work.
Microsoft Teams is the digital workspace that empowers you to accomplish more with a new class of applications that break down barriers between business processes and collaboration. Designed to reduce context-switching, collaborative apps can be embedded directly into Teams, or integrate components of Teams such as meetings or chat—right in the interface of other applications.
With 250 million monthly active users, Teams has become the new way people connect, collaborate, and stay in the flow of work with full context. Since the start of 2020, monthly usage of third-party apps and custom-built solutions within Teams has grown nearly 10 times, while just in the past year, the number of applications created by developers, partners, and customers for Teams has doubled.
Let's take a closer look at the ways Teams extends its core collaborative features to make apps and your processes more seamless and efficient.
Extend collaboration with Dynamics 365 and Teams
Let's start with the integrations between Microsoft Dynamics 365 and Teams, a best-in-class example of a collaborative app that helps you connect with the right people and data to give you everything in one place.
New experiences between Dynamics 365 and Teams bring more data and connectivity right into your workflow. For example, you will be able to connect with your team in chat and search for a Dynamics 365 Sales customer record directly from within Teams—all without needing to switch apps. Then send the record as a Loop component, which helps simplify workflows across Teams and Office apps, creating a powerful and flexible canvas that can be edited and shared in real-time. Once you're done, you can embed the chat in the Dynamics 365 record. These features will be available in public preview between now and end of 2022.
This doesn't just apply to experiences in Teams—you can start Teams chats or initiate calls right within Dynamics 365, giving you the flexibility to collaborate at the same time with critical information at your fingertips, or asynchronously at your own pace.
Solve problems through custom application development and Power Platform
As more organisations around the world are embracing digital transformation, business leaders are often faced with insufficient resources to build custom solutions and workflows required for hybrid work. The Microsoft Power Platform enables anyone to create line-of-business applications in teams using the Teams Toolkit for Visual Studio, as well as low-code or no-code solutions. Microsoft are extending the integrations between Power Platform and Teams to empower you to quickly create a wide range of applications to support the changing needs of your organisation.
Application creators will soon be able to embed Teams chat experiences into custom business applications built with Power Apps. In the coming months, this connectivity with Power Apps will allow you to bring the collaboration experience your users use every day into your custom line of business applications.
New features now available for Microsoft Power Virtual Agents allow you to create more robust chatbots that can proactively message users based on pre-set conditions or answers, and support group interactions in channel conversations.
Microsoft Power BI app for Teams is now generally available with more ways to collaborate, featuring new capabilities to help you build a more data-driven workplace.
Bring Teams collaborative features to other applications
Create meaningful experiences in your applications with the integration of communications services like chat and calling. Microsoft combined the power of Teams with Microsoft Azure Communication Services (ACS) to help you re-imagine your businesses' interactions, making it easier to engage with voice, video, chat, and screen sharing on any device. With ACS and Teams interoperability, you can create a custom external web portal, while your employees work in the familiar Teams environment.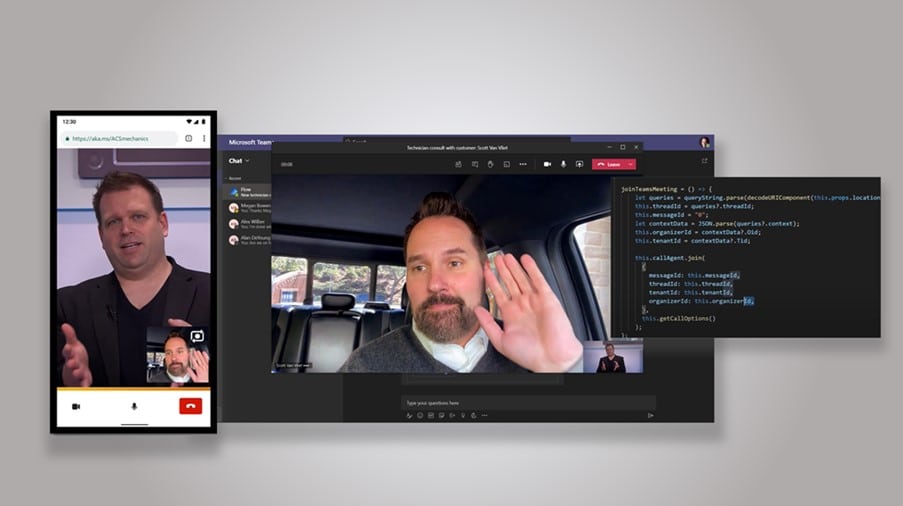 Redesigned Teams App Store
With more than 1,000 apps available today in Teams, major improvements have been made to the Teams App Store. Featuring an optimised landing page, the app store will now make customized recommendations and highlight apps based on your preferences.
The app categories have been updated, making it easier to find the apps you're looking for. From both inside and outside your organisation, IT admins can now purchase third-party app subscriptions from the Teams admin center through invoice billing to help streamline purchasing.
Additional Features
Microsoft's continuous investment in innovations help organisations navigate the future of hybrid work, so everyone can connect, collaborate, and stay in the flow of work with full context. With Microsoft Teams, we believe you'll not just be able to adapt to the new world of work, but you will thrive with it.
---
To learn more about building collaborative apps with Teams contact Spanish Point Today.
---