Interview with Svetlana Korshunova
Svetlana is a software engineer with experience in software development and data analytics and holding a Microsoft Azure Data Engineer Associate certificate. Svetlana is an invaluable member of our team at Spanish Point, where she contributes to our BI and Data Analytics department.
Svetlana specializes in Data Analytics and Machine Learning utilizing the Microsoft platform. She excels in leveraging powerful tools such as Power BI and Azure Analytics Services to extract meaningful insights from data and develop innovative solutions. Svetlana has been invited to be a featured speaker at Data Ceili, Ireland's most prominent Microsoft Data Platform event.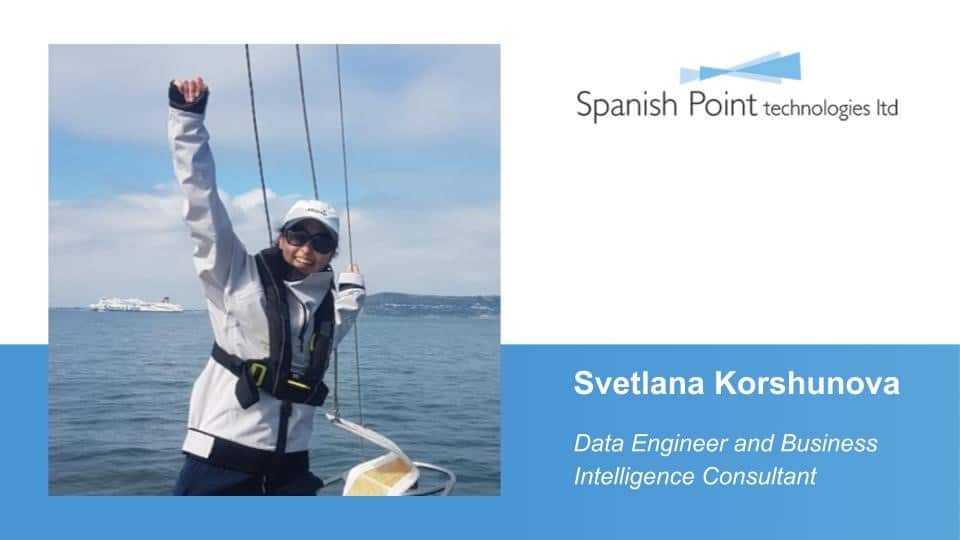 1. Why would you as an expert recommend Reports localisation solution for different data structures using Power BI?

Power BI is a great service highly loved and heavily used by us in Spanish Point and our customers. With the tools and services provided, a constant improvement from Microsoft it helps us to implement BI solutions of different complexity for our customers, starting from local reports to global analytical platforms with a variety of analytical tools.
2. How do you work with it?
The Reports localisation global solution will require not only presenting analytics but considering locations where it's been presented. Language, time, currency, and number format is different in a different part of the world so the analytics should follow. We analyse a variety of data source structures, build different types of reports, and meet business requirements on data refresh and time travel, presenting our analytics in a reliable and secure way for all end users. Reports localisation might look complicated at the first sight to put it all together but a clear understanding of tasks to be sold, consideration of all requirements, best practices, and real scenarios helped us to implement the solution for one of our customers.
3. How does the Reports localisation solution for different data structure using Power BI help the customer with what they are looking for?

To give you an example, Power BI was recently chosen as a reporting platform by one of our customers for their new online retail system distributed across the globe. The customer reporting requirements included building Power BI desktop and paginated reports based on differently structured data sources like OLTP and OLAP, and connection modes including Direct Query. All those reports were supposed to be shown individually and/or embedded in the application, filtering shown data based on end-users viewing the reports. As Initial application were used across the globe and supported different languages, reporting part were supposed to support different languages as well.
4. Can you describe some of the tasks performed as part of the described project?
As a part of the project team, I was working on reports localisation research and implemented proof of concept for the proposed solution to cover all types of reports built for the customer using Power BI, making sure we have something robust and reusable across different scenarios. We have proven the technology and have the solution up and running partly by now while keep working on finishing the remaining parts.
5. What resources does Spanish Point offer to help their customers around this Reports localisation solution for different data structures using Power BI?

Spanish Point can help customers to build Localised BI solutions based on their scenarios. It could be POC to explore and prove what's possible as a starting point followed by implementation of the solution. We can also provide guidance, and best practices and share our experience with customers on a consultancy basis.