On Friday the 23rd of November, the Microsoft Tech Summit took place in Croke park. Spanish Point Technologies were proud to be gold sponsors of this successful event. The day was packed full of technical content, brought to you by Microsoft's cloud experts across Azure, Business Applications and Dev Ops Solutions.
Check out this video to see our highlights from the day & hear our CEO Donal Cullen talking about the benefits of moving to the Cloud!
Take full advantage of Cloud Services by migrating your applications to Microsoft Azure. See our Moving to the Cloud solutions.
In the afternoon sessions our CTO John Corley spoke alongside Ricardo Fiel explaining how Spanish Point use Azure to solve big data problems for the music industry.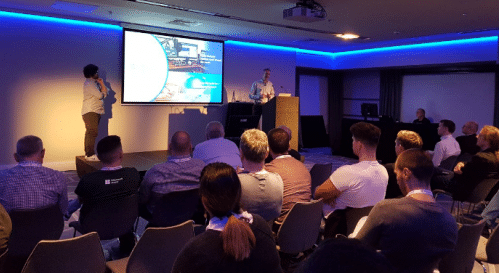 Thank you to all the attendees and especially to Microsoft Ireland and Croke Park for the fantastic event. Spanish Point Technologies are looking forward to next years #MSTechSummit already.
Please register here to book your place in our next available Azure Bootcamp & Training.
Register to our Azure Bootcamp & Training
Once again a huge thank you to everyone who attended. Follow us in LinkedIn, Twitter and Vimeo for information regarding future company events and general updates.