Consider Microsoft Azure multicloud and hybrid cloud solutions
With Microsoft Azure Arc and Azure Stack HCI you can manage, govern, and secure IT resources across on-premises, multicloud, and edge environments from a single control plane. Build and deploy a truly consistent app experience everywhere in your hybrid cloud. Get unified hybrid security management and advanced threat protection for all your workloads across on-premises, Azure, and other cloud environments. Seamlessly migrate, manage, and analyze data across your digital estate while gaining the operational freedom of evergreen SQL and centrally managed automatic updates for your entire data estate with Azure SQL enabled by Azure Arc.
Azure Arc
Azure Arc offers simplified management, faster app development, and consistent Azure services. Easily organize, govern, and secure Windows, Linux, SQL Server, and Kubernetes clusters across data centers, the edge, and multicloud environments right from Azure. Architect, design, and build cloud-native apps anywhere without sacrificing central visibility and control. Get Azure innovation and cloud benefits by deploying consistent Azure data, application, and machine learning services on any infrastructure.
Azure Arc use cases
Control sprawling IT assets: Easily organize, govern, and secure Windows and Linux servers, SQL Server, and Kubernetes clusters across datacenters, the edge, and multicloud environments. Use Azure tools like Azure Policy and Azure Resource Graph with both traditional and cloud workloads.
Ensure consistent deployments and configuration: Deploy and manage Kubernetes applications with GitHub and Azure Policy. Ensure that applications and clusters are consistently deployed and configured at scale from source control.
Meet regulatory and data sovereignty requirements: Automate and enforce policies to meet data governance and security requirements, while managing costs efficiently. Get the latest cloud innovation, elastic scale, and unified management for data workloads running across hybrid infrastructure.
Gain control of complex data infrastructures
With computing infrastructure extending across datacenters, multiple clouds, on-premises hardware, and the IoT edge, maintaining control and governance of data can be increasingly difficult and time consuming. Each deployment can have unique management tools that your IT department must learn to operate, maintain, and secure. DevOps and ITOps operational models can be difficult to implement if these disparate tools fail to provide support for both cloud native and legacy operation patterns.
Azure Arc simplifies these challenges by delivering a consistent management platform and "single plane of glass" across on-premises hardware, Azure cloud, and non-Azure cloud resources encompassed within the Azure Resource Manager. Virtual machines, Kubernetes clusters, and database servers can all be managed as if they were running directly within Azure. Traditional ITOps can continue while introducing DevOps practices to support new cloud native concepts.
Consistency, control, security, and compliance
Providing simplified management, Azure Arc helps you organize, govern, and secure Windows and Linux servers, as well as SQL Server databases and Kubernetes clusters across datacenters, the edge, and multicloud environments. Furthermore, you can:
Standardize your configuration with consistent deployment of Kubernetes applications using GitHub and Azure Policy from source control.
Ensure your data policy compliance for governance and security are unified across hybrid infrastructures.
Delegate access and manage security to ensure your compliance requirements are kept (using Azure Lighthouse with role-based access control)
Azure Stack HCI
Flexible Hyperconverged Infrastructure (HCI) delivered as an Azure hybrid service
Azure Stack HCI is a new hyperconverged infrastructure (HCI) operating system delivered as an Azure service that provides the latest security, performance, and feature updates. Deploy and run Windows and Linux virtual machines (VMs) in your datacenter or at the edge using your existing tools, processes, and skill sets. Extend your datacenter to the cloud with Azure Backup, Azure Monitor, and Azure Security Center.
Run workloads from your datacenter to the edge of your business (remote offices/branch offices): Meet the evolving IT demands of branch offices, retail stores, and field locations at an affordable cost leveraging the cloud capabilities of Azure Stack HCI.

Support large-scale virtual desktop implementations: Use remote desktop services, highly available virtual machines (VMs), and integrated scalable storage to support your large-scale virtual implementations.
Optimize the performance of virtualizing SQL Server: Deploy and manage demanding SQL Server workloads running on hyperconverged infrastructure to get best of class performance.
Improve security with trusted enterprise virtualization: Use virtualization-based security and certified hardware to help protect your sensitive workloads.
Deploy a tightly integrated Kubernetes–enabled platform: Enable automated deployment and management of containerized apps by running Kubernetes clusters on your hyperconverged infrastructure.
Gain the benefits of cloud hosting leveraging your existing on-premises hardware
With Azure Stack HCI, you can take advantage of the benefits of the cloud without committing to a full public cloud infrastructure by embracing Hyper-converged Infrastructure (HCI). With Azure Stack HCI, you can:
Decrease data center complexity
Increase scalability
Lower costs
Improve performance and availability
Simplify operations
Prove out cloud benefits without committing to a full cloud deployment
Built from the ground up to take advantage of HCI without sacrificing legacy functionality, Azure Stack HCI optimizes on-premises validated hardware by improving workload virtualization while leveraging Azure hybrid services—providing the ideal hybrid platform.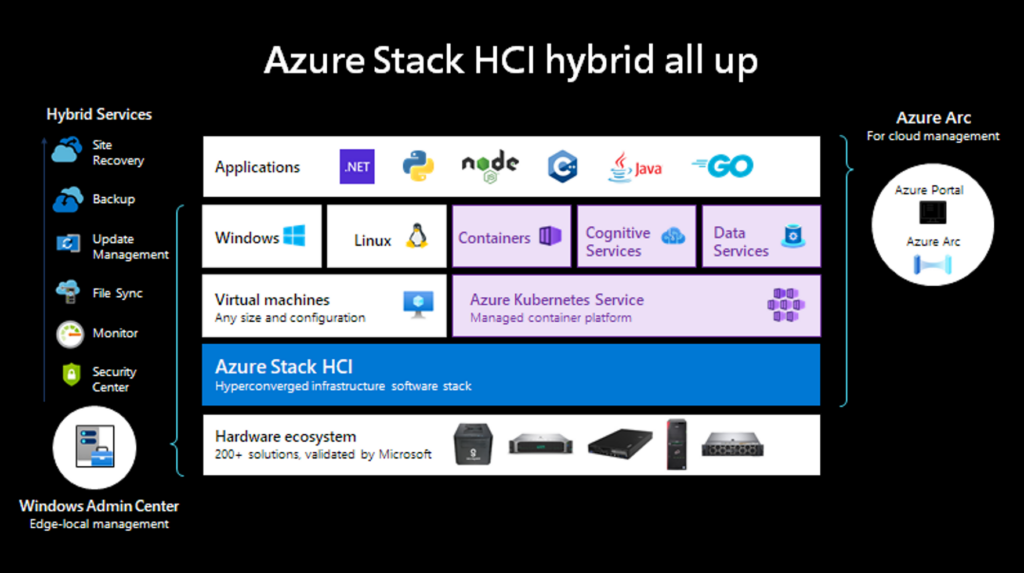 Starting with just two nodes (and growing as large as 16), Azure Stack HCI can scale your datacenter to sites across the world, decreasing space requirements and reducing costs. Global monitoring and management allow your best IT team to manage the entire deployment from a centralized console, all within an existing Azure Stack HCI subscription.
Azure Stack HCI was developed with four guiding principles in mind to improve the operation, performance, scalability, and flexibility of your data infrastructure:
Azure is hybrid by design—Centrally manage and monitor clusters from Azure Portal and benefit from fleet management for hosts and virtual machines (VMs) using native integration with Azure Arc and Azure Monitor, along with connections to Azure hybrid services like Azure Defender, Azure Backup, and Azure Site Recovery.
Enterprise scale and great price performance—Modernize compute and storage infrastructure, consolidate virtualized and containerized workloads, and reduce costs while gaining cloud efficiencies on premises.
Simplified operations—Leverage familiar Windows Server, Hyper-V, PowerShell, and Azure skill sets to simplify and accelerate deployment, management, automation, and orchestration.
Deployment flexibility—Deploy using appliance-like solutions validated and optimized for specific use cases or leverage the comprehensive portfolio of x86 servers and hardware components to customize a platform to meet specific capacity, scalability, and cost requirements.
Selecting the right partner for your journey
Whether you need to increase consistency, control, security, and compliance of your existing data infrastructure, or grow and replace your existing on-premises infrastructure with hyper-converged infrastructure, you will need a trusted partner to help guide your journey and ensure a swift and successful transition. Microsoft provides all the tools you need, while we can help you provision, deploy, and optimize the Azure services best suited for your specific business needs. We have the experience and trained experts to help ensure your hybrid approach with Azure Stack HCI and Azure Arc are a success.
Contact us today to learn more about Azure Arc and Azure Stack HCI or to kick-start your data infrastructure modernization journey!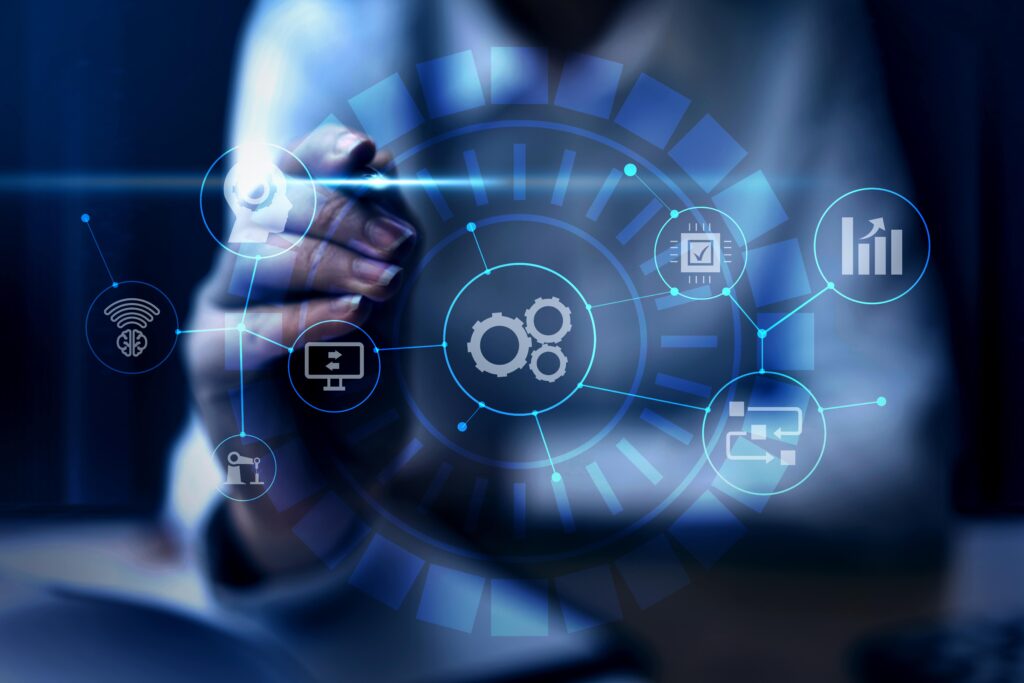 Contact us today to learn more about Azure Arc and Azure Stack HCI or to kick-start your data infrastructure modernization journey!