To help ease the transition back to work, Spanish Point have developed a PowerApps Desk Booking App designed to help businesses protect their staff as they return to work.
While working from home has never been easier, with modern communication tools allowing smooth and effective communication from wherever you are across teams, there are still plenty of benefits to being in the office.
"Working from home is not for everyone. Tools like Microsoft Teams are great for collaboration and teamwork, but it doesn´t allow for the same level of interaction as you would get in the office. So many ideas and decisions are made in the corridors of the office or in the lunchroom.", says Stuart Cameron, Head of Finance/HR for Spanish Point Technologies.
"When analysing the possibility to return to work, our main priority was following the guidelines provided by HSE to ensure social distancing and contact tracing. We also have to keep in mind that not everyone has the same opportunity or flexibility to work from home, so, we aimed to find a way to make return to work an easy and smooth process and not a hassle."
To achieve this, Spanish Point developed a PowerApp low code solution, the Book A Desk app. The app allows the user to go online or on the phone and see who is going to the office on what day and which desks are booked already. As part of the booking process, users can clearly identify which desks are free and which ones are in use for the day. If they are booked, they can then consider booking from an available pool of hot desks or working from home on that day to maintain social distance.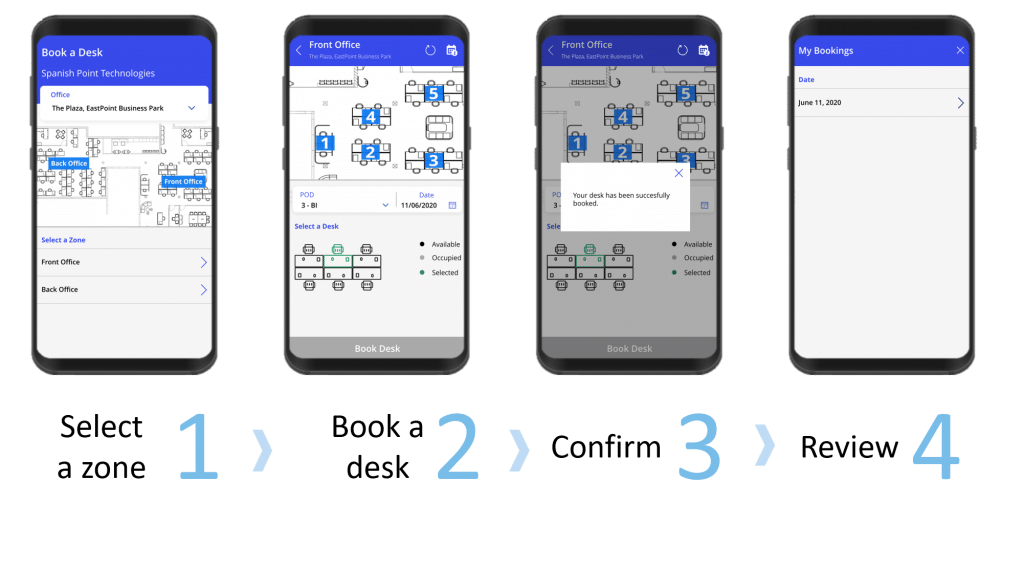 The Book a Desk App is built as a Canvas App and stores its data in a SharePoint list. Any customer with an E3 Office 365 subscription should have everything they need in place to be able to use the app. It is an easy to use app where you can set up the layout of your office, identifying buildings, floor plans and desks, all configurable at system setup. Office administrators can easily add or delete areas and end- users can select from multiple office buildings and swipe through multiple floor plans within an office building.
"Apart from making social distancing easier, the app also allows us to keep track of who is in the office on a specific day. This means that, if anyone should contract covid-19, it will allow us to more efficiently help the HSE with the contact tracing", Cameron says.
It helps companies keep a record of staff in the office for a period of 20 days, as required per the guidelines from HSE, and makes them available in a secure way through Excel, identifying what people were in the office and who were they in proximity.
Book A Desk gives employees an opportunity to plan ahead, giving them more flexibility to divide their time between working in the office and from home, enabling all users to easily book a workspace, locate colleagues and manage bookings.
For further information or any questions about the Book a Desk App, you can email sales@spanishpoint.ie or register below to request the information pack and details around downloading the app for free!