Connecting with people has never been more important, and customer expectations have never been higher. Customer tolerance for disjointed experiences, or even worse, tone-deaf communications is unacceptable. Organisations that deliver better end-to-end customer experiences (CX) are taking share. Despite a decade of discussion about the importance of CX, many companies have failed to elevate their experiences to the level desired.
Beyond the human value of great experiences, elevated experiences are critical to driving business value—enabling growth and driving brand equity, preventing churn, and enabling higher marketing and customer engagement return on investment.
Dynamics 365 Marketing is working to revolutionise how organisations address these challenges to enable teams such as marketing, sales, customer success, commerce, or customer service to create engaging and impactful customer-led experiences.
Moving from segment-based marketing to real-time interactions
Customer journey orchestration helps you make the next great leap in customer experiences: from segment-based marketing campaigns to moments-based interactions, creating a personalised, holistic customer journey for each individual. This enables you to strengthen your relationships at every touchpoint across both digital and physical, breaking down walls between marketing, sales, commerce, and service organisations. Dynamics 365 Marketing responds to customer actions during the journey.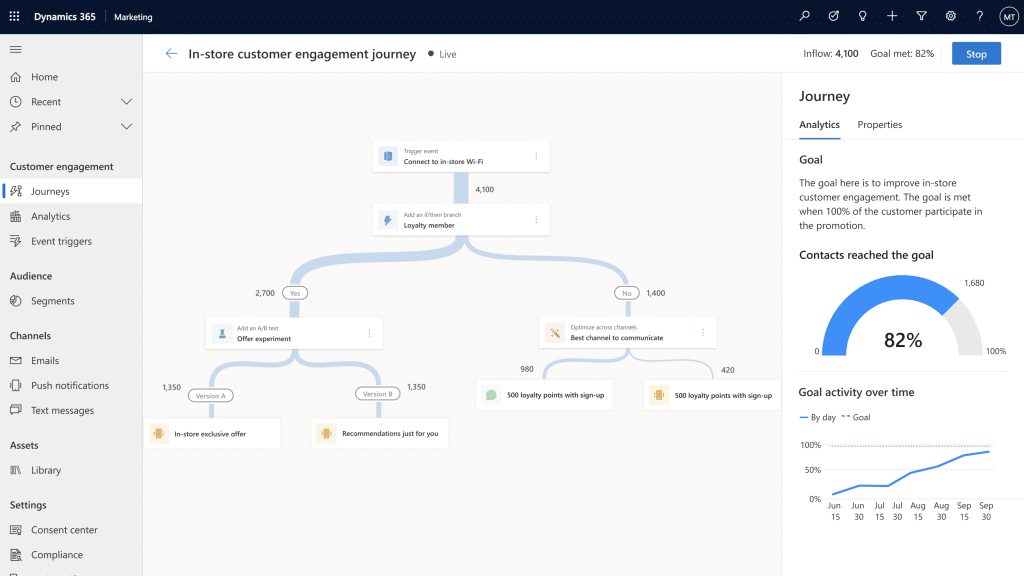 Personalise customer experiences with AI to enable more engaging content
Authoring impactful content quickly and easily is a big challenge. With built-in AI recommendations for content, channels, customer segmentation, and analytics, companies can be sure to deliver the right message. The reimagined email editor helps select and deliver the best image, video, document, or fragment using AI. A new centralized asset library allows you to search, version, manage and use AI to tag your digital assets.
Journey authoring is also assisted by AI with targeted customer segments, channel optimisation, and experimentation. As customers engage, the customer journey adapts and responds to interactions with relevant content driving further engagement.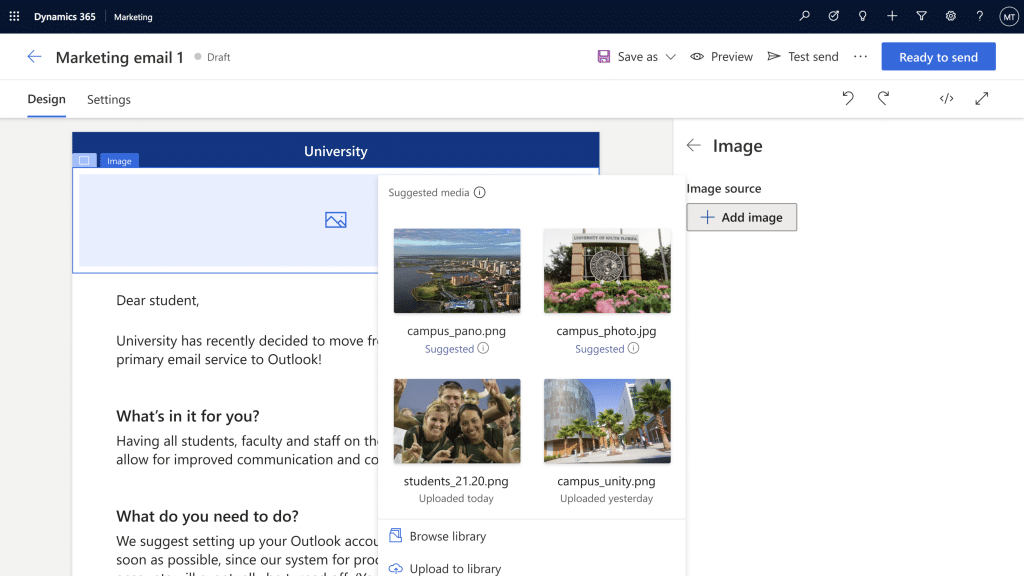 Stronger connections with Microsoft Teams
The dramatic shift to online meetings and virtual events has made it even more important for event managers to easily use Teams and Dynamics 365 Marketing.
New and updated features were announced at Microsoft Ignite that enable you to run rich webinars and events, true to your brand with a professional experience for attendees. Microsoft also announced the ability of Teams to easily follow up with event attendees with Dynamics 365 Marketing. This allows you to continue connecting with attendees, nurturing them into loyal customers.
Plus, commercial Microsoft 365 E3 and E5 customers will get six months of free access to Dynamics 365 Marketing at no additional cost to drive engagement, conversion, and build loyalty with their webinar registrants.
Turn insights into action
Microsoft's customer data platform, Dynamics 365 Customer Insights, makes it easy to unify customer data, identify high-value customer segments, or those likely to churn. When you combine it with Dynamics 365 Marketing, you can engage customers in a personalised way and in real-time to drive meaningful actions. Seamlessly use segments from Dynamics 365 Customer Insights to target marketing campaigns. Personalise content with rich profile information, and create individual journeys based on customer history and preferences. With the addition of Dynamics 365 Customer Insights and Microsoft Azure Synapse Analytics, you build custom AI models and improve relevancy with advanced segmentation and targeting that can then be brought to life with Dynamics 365 Marketing.
Learning customers' preferences and sentiment is critical to personalising engagement. Introducing real-time survey capabilities for Microsoft Dynamics 365 Customer Voice that enable you to adapt customer journeys or trigger relevant communications. For example, if a customer is not satisfied with a specific product feature or service, the response can quickly stop marketing campaigns while also notifying an account manager for personalised follow-up.
Together, these connected applications help companies personalise moments that matter across all touchpoints in a customer's journey and build deeper customer relationships with more meaningful engagement across both digital and physical channels.
Learn more and get started
To learn more about how your organisation can elevate your customer experiences contact us today at sales@spanishpoint.ie