As the shift to hybrid work becomes a reality, it is clear that the workplace today is different than it was two years ago. Employees' expectations continue to evolve as they reconsider their "worth it" equation. In Microsoft's 2022 Work Trend Index, 53 percent of employees say they're more likely to prioritise their health and wellbeing over work than before. At the same time, 43 percent of employees are somewhat or extremely likely to consider changing jobs in the coming year, with younger employees even more likely to consider changing employers.
So, what are employees looking for in a job now? Research shows that they want purpose, flexibility, growth and development, and a culture where they feel like they belong. Based on the latest data from the 2022 Work Trend Index, beyond pay, the top three aspects of work that employees view as "very important" are for an employer to provide: a positive culture (46 percent), mental health/wellbeing benefits (42 percent), and a sense of purpose/meaning (40 percent).
In short, they want a better employee experience. To attract and retain talent, it is critical for organisations to prioritise the employee experience in a way they never have before, no matter where people are working from.
But many managers (54 percent) feel leadership is out of touch with these expectations, and most (74 percent) feel they lack the resources to drive change. So, we're excited about the new Microsoft Viva Insights Inspiration library with ideas and best practices to help people and organisations thrive.
Introducing the Viva Insights Inspiration library
We know that creating a great employee experience isn't just about providing great technology, it's also about cultivating a culture where every individual can learn and share best practices that help bring balance to work and life, be more productive, and foster an engaged and productive workforce. Customers told us that they want access to timely, relevant information and guidance in the flow of their work where they have an opportunity to put these best practices into action using Microsoft Viva.
Last week, Microsoft announced the new Inspiration library, available in preview through the Viva Insights app in Microsoft Teams. The Inspiration library brings together a curated set of best practices and thought leadership content written by experts from Harvard Business Review (HBR), Thrive, and Microsoft on how to approach resiliency, wellbeing, culture, and leadership amidst the evolving world of work.
"We're excited that HBR will be part of the Inspiration library. Our hope is that it provides some useful ideas on hybrid work, productivity, leading a team, and more to help Viva users in the flow of their workday."—Maureen Hoch, Editor, HBR.org.
With the addition of the Inspiration library, productivity and wellbeing insights delivered by Viva Insights are enhanced by premium content focused on topics that are top of mind for employees—from burning out, to rediscovering joy at work, to proven ways to inspire your team—there's insightful, research-backed guidance for individuals, managers, and leaders that gives everyone a space to learn and grow. Embedding these resources directly into the Viva experience will meet employees where they are, enhancing the digital employee experience.
Inspiration library content will be refreshed periodically and will expand to include additional high-value and impactful content from other respected thought leaders.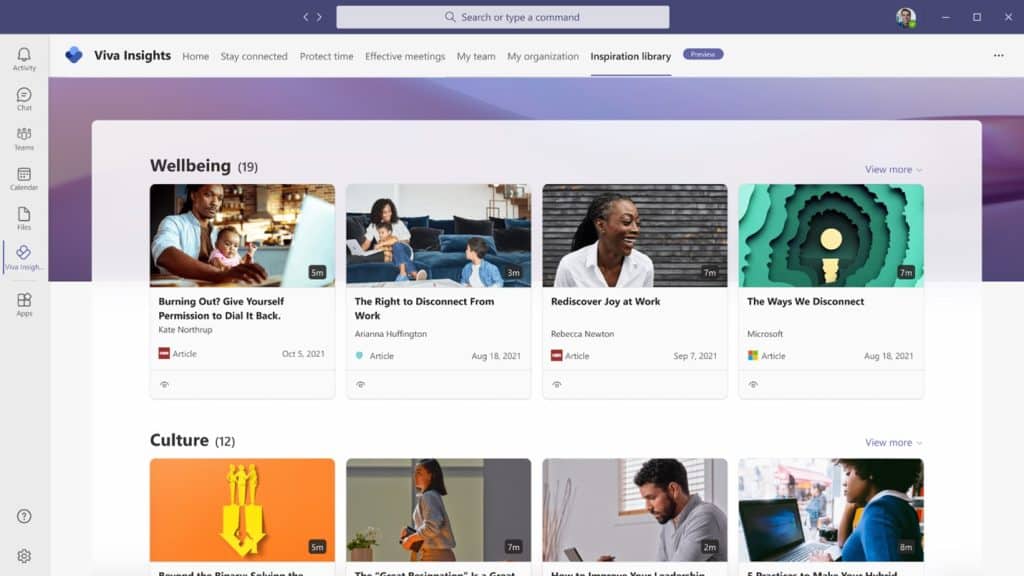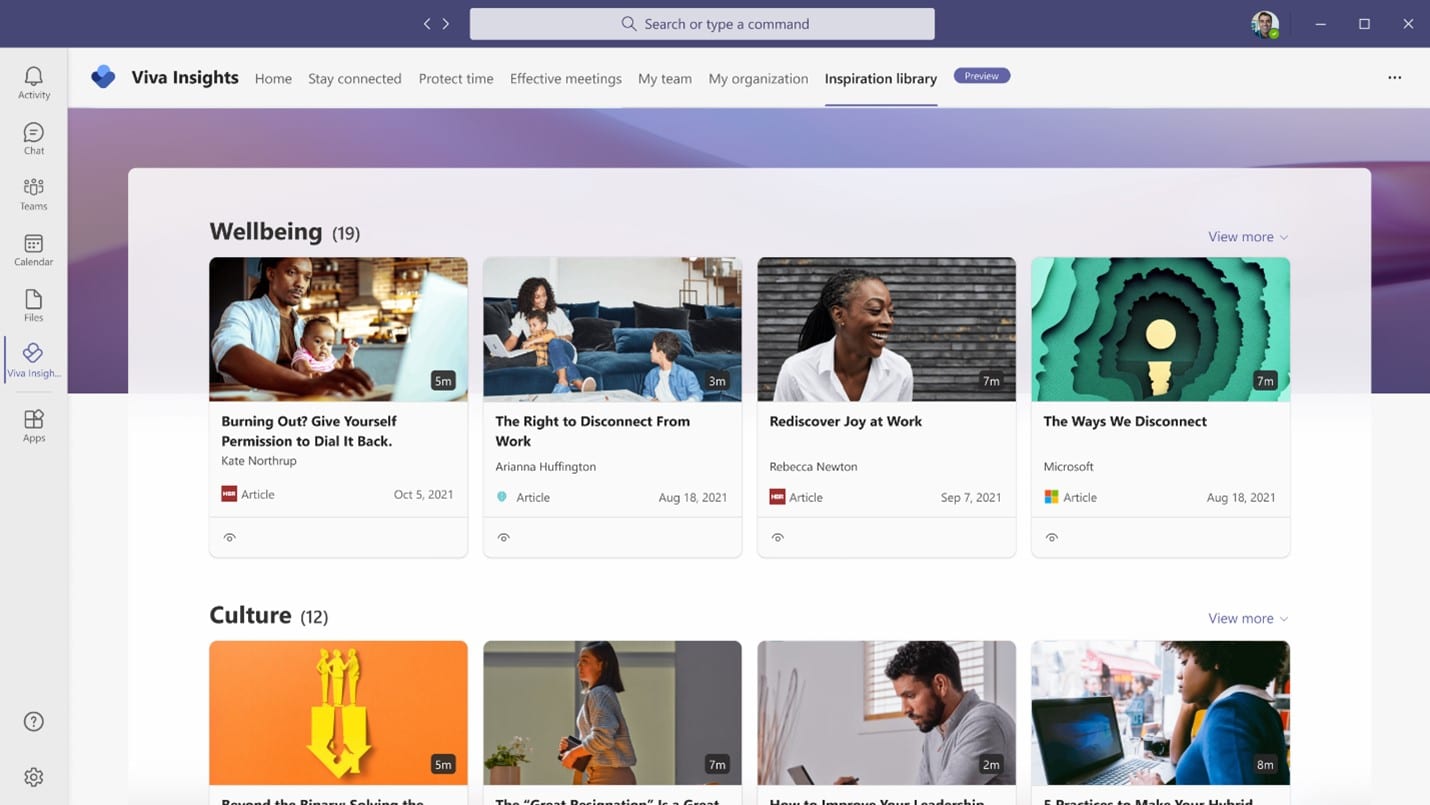 Focusing on employee work-life balance and wellbeing
Beyond inspiring ideas and providing employees with ways to make the most of their workday, managers and leaders can use these insights and real-world examples along with recommendations from Viva Insights to take action, and then use advanced insights to measure the impact of their actions.
For example, a manager may notice that the team's overall after-hours work and time spent in meetings are trending upwards. Effective collaboration is important to your business, but people also need focus time to think and work without distraction. With Viva Insights, managers now have the toolkit to build a set of best practices for their teams, such as tips for staying focused, giving permission to say no, and other tools like setting up a no-meeting day for the team or encouraging the team to enroll in a personal focus plan to protect time for important projects during their regular working hours.
The business case for employee experience
Organisations are now beginning to understand that robust employee experience programs supported by the right technology and insights can lead to significant business value. The more employees are invested in the mission and purpose of the organisation, the more committed they are to its business outcomes.
Leaders recognize this change and are shifting investments accordingly, but there's misalignment about what employers and employees want out of that technology. While business leaders are using it to accommodate hybrid work environments (like better connections and access to resources), employees say they also value personalised, curated learning experiences, stronger feedback loops, and an inclusive culture. Additionally, there are too many tools and too little adoption.
The good news is, both business leaders and employees agree that technology can help and that a single, integrated EXP can help organisations improve in ways that match the priorities of both groups.
Looking ahead
To make hybrid work work, leaders will need to embrace this shift in employee expectations and transform their organisation's employee experience.
---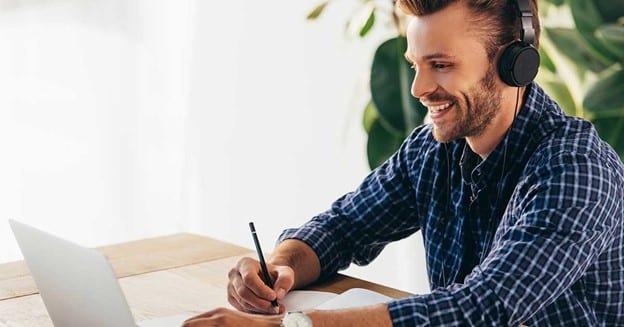 Learn more about Microsoft Viva
---