---
Data, security and governance are key issues for ISVs. Their customers rely on their applications to be secure and compliant. Microsoft Azure provides ISVs with security and governance at scale while managing costs.
---
Privacy and security are paramount in the world of technology. With new governance around data such as GDPR, this has never been more evident. Businesses are searching for secure applications that they can depend on. For Independent Software Vendors, security is a key component of their model.
An experienced cloud partner can help accelerate and guide cloud migrations to access this security. Spanish Point Technologies can support ISVs to migrate applications to the cloud to ensure their data is secure and applications meet global compliance.
ISVs also can feel secure in the ongoing management of their infrastructure. Through roadmap planning and ongoing maintenance, Spanish Point Technologies support ISVs in securing their applications for the long term. Ultimately, this helps ISVs to gain access to the various security and governance benefits of Azure.
Security at Scale, now a shared responsibility
Security at scale is difficult to achieve with on premise or web applications. Migrating applications to Azure can provide this high level of security at scale and while maintaining cost effectiveness. No longer is security a singular responsibility on the ISV, but it is now shared with Microsoft. As shared by Pradeep Nair, Senior Director at Microsoft Azure "Microsoft has an enduring commitment to protect data privacy, not as an afterthought, but built into Microsoft Azure from the ground up" (Pradeep Nair Senior Director, Microsoft Azure, 2018).
ISVs can identify and respond to issues rapidly
A proactive and ongoing approach to security can provide peace of mind to ISVs. Azure has many tools and guidelines that provide this reassurance so that ISVs can identify and address issues. Through helpful security and compliance tools, such as Azure Security Centre and Compliance Manager, ISVs can quickly see threats or vulnerabilities in their applications. Spanish Point Technologies can advise ISVs on how to address these threats and the governance or security recommendations to control risks.
Lower risks as ISVs grow their business globally
SaaS modelled applications are built for scale, allowing ISVs to reach new customers around the world. Security and compliance across various countries could present delays, risks or high costs for ISVs when expanding. Microsoft is a global company with a wide footprint. ISVs can gain the benefit of Azure's availability in 140 countries with widespread compliance. This can support ISV businesses to reduce time spent meeting global regulations and ensure their reputation is untarnished as they expand.
Cost risks are reduced
The financial risk can be high when undergoing a digital transformation. In addition to advice on global compliance and security, an ISV's cloud partner can be an advisor on scaling and cost management. Spanish Point Technologies have Azure experts who can advise ISVs to get the most from their cloud investments.
Disaster recovery, customers can depend on applications
When integrating applications into their business processes, customers must feel secure and confident in the security and continuity of the technology. Customers depend on ISV applications and they should work when they need them. An outage or breach can cause reputational damage and put ISVs at a competitive disadvantage. Azure is scalable, secure and robust ensuring that data can be backed up and that applications are available when your customers need them.
Manage security and privacy as a continual process
The protection of your infrastructure and security of data is an ongoing process. This can seem daunting for ISVs when they look to the future of their businesses. One of the major benefits of Azure is that "security is by design" (Pradeep Nair Senior Director, Microsoft Azure, 2018). ISVs benefit from industry leading security, management services and policies. In addition to this, an ISV's cloud partner will provide ongoing management services and support. Spanish Point Technologies provides ISVs with Microsoft Premier Support access, providing 24/7 peace of mind.
Azure is built on well-established global security and governance principles that can provide growth confidence to ISVs. Migrating to a SaaS model with Spanish Point Technologies can accelerate the process effectively while minimizing risk and costs. With years of experience and many migration success stories, Spanish Point Technologies can support ISVs to scale their applications securely. Through SMART AIM, Spanish Point Technologies works with ISVs to develop a roadmap that is manageable and has an ISV's data unique security requirements as a core principle. This reduces overall business risk as ISVs move to a more scalable model.
An efficient way to define your Azure migration strategy is through SMART AIM or by contacting us directly for a free consultation.
---
If you have questions, we will be having an open Q&A session at our upcoming Webinar: Modernise your applications on the Azure Cloud.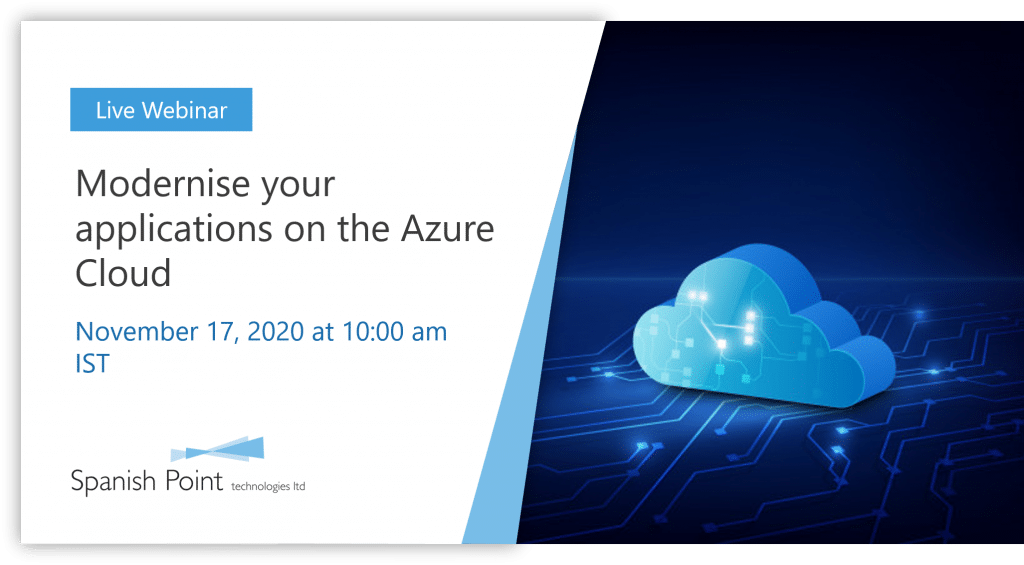 Sign up for free now!