Microsoft announced the preview release of Azure Purview, a new data governance solution, as well as the "general availability" commercial release of Azure Synapse Analytics and Azure Synapse Studio.
Azure Synapse Analytics was introduced a year ago by CEO Satya Nadella at Microsoft's Ignite event. Formerly known as "Azure SQL Data Warehouse," Azure Synapse Analytics was redesigned to bolster the number of queries that could be run, while also adding a connection to Apache Spark. Now, the Azure Synapse Analytics product is commercially released.
Azure Purview Preview

The Azure Purview preview, which went by the internal Microsoft code name of "Project Babylon" is a separate product that can be used with Azure Synapse Analytics. Azure Purview is the new data governance solution that's integrated with the Microsoft Information Protection service. It relies on the same "sensitivity labels" approach of Microsoft Information Protection to classify an organisation's data. Microsoft suggested that Azure Purview can help protect data handled by non-Microsoft products, as well:
---
By extending Microsoft Information Protection's sensitivity labels with Azure Purview, organizations can now automatically discover, classify, and get insight into sensitivity across a broader range of data sources such as SQL Server, SAP, Teradata, Azure Data Services, and Amazon AWS S3, helping to minimize compliance risk.
---
Microsoft began working on Azure Purview after it introduced Azure Synapse Analytics last year. Azure Purview can work with other cloud-based and on-premises solutions, but it's also integrated with the Microsoft 365 Compliance Center, various Azure services, the Power Platform and SQL Server, according to a Microsoft-produced chart.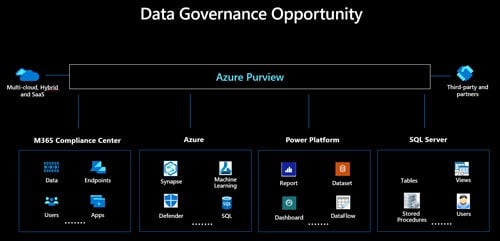 Azure Synapse Analytics is also not replacing the Azure Databricks service. Microsoft indicated that while they are both based on Apache Spark, "they each have different scenarios they support in different ways."
Azure Purview isn't currently considered to be replacing the Azure Data Catalog service. "There is no change in status for Azure Data Catalog which continues to be a fully supported generally available Azure service"
Microsoft has indicated that Azure Synapse + Azure Purview will work across "a broad set of platforms including relational databases such as Azure SQL and SQL Server, Azure Blob and AWS S3."
---
In today's market, organisations need to have a clear view of their business performance in real-time so that they can continually adapt and seize any potential opportunity. Empowering your team with the right tools is critical to ensure that they can collaborate, discover, and innovate. Our consultants have helped a range of customers explore how they can benefit from Microsoft's Azure Data Platform and how to take advantage of their different capabilities. If you're interested in how either Azure Synapse or Azure Purview could help you, feel free to contact us
To learn More: Download our gated asset