---
Azure Synapse is an integrated analytics service that accelerates time to insight across data warehouses and big data systems Azure Synapse can provide ISVs with an out-of-the-box solution designed to accelerate time-to-insight and empower business agility.
---
Azure Synapse is the only end-to-end platform that unifies data ingestion, big data analytics, and data warehousing. It offers turnkey setup and configuration options on fully managed infrastructure to help you get results fast.
Since its preview announcement, Microsoft have documented incredible excitement and adoption of Azure Synapse.
Azure Synapse Analytics was introduced a year ago by CEO Satya Nadella at Microsoft's Ignite event. Formerly known as "Azure SQL Data Warehouse," Azure Synapse Analytics was redesigned to bolster the number of queries that could be run, while also adding a connection to Apache Spark. This allows ISVs to reduce development time and accelerate insight.
The management and monitoring of ISV analytics system is made easier. Teams can secure their entire analytics system and prevent data exfiltration by simply selecting the managed virtual network feature when creating a Synapse workspace. Giving ISVs valuable time back for their teams.
Azure Purview Preview
Microsoft has also recently announced the preview release of Azure Purview, a new data governance solution.
The Azure Purview preview, which went by the internal Microsoft code name of "Project Babylon," is separate product that can be used with Azure Synapse Analytics. Azure Purview is new data governance solution that's integrated with the Microsoft Information Protection service. It relies on the same "sensitivity labels" approach of Microsoft Information Protection to classify an organization's data.
Microsoft suggested that Azure Purview can help protect data handled by non-Microsoft products, as well:
By extending Microsoft Information Protection's sensitivity labels with Azure Purview, organizations can now automatically discover, classify, and get insight into sensitivity across a broader range of data sources such as SQL Server, SAP, Teradata, Azure Data Services, and Amazon AWS S3, helping to minimize compliance risk.

Microsoft
Microsoft began working on Azure Purview after it introduced Azure Synapse Analytics last year. What is highly beneficial to ISVs is that Azure Purview can work with other cloud-based and on-premises solutions, but it's also integrated with the Microsoft 365 Compliance Center, various Azure services, the Power Platform and SQL Server.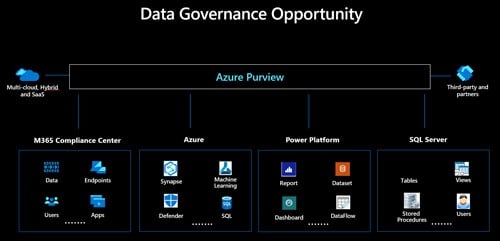 Azure Synapse Analytics also is not replacing the Azure Databricks service. Microsoft indicated that while they are both based on Apache Spark, "they each have different scenarios they support in different ways."
Microsoft has indicated that Azure Synapse + Azure Purview will work across "a broad set of platforms including relational databases such as Azure SQL and SQL Server, Azure Blob and AWS S3."
---
Think you might be an Independent Software Vendor and want to get started with Azure Synapse Analytics?
Learn more about Azure Synapse Analytics here.