Migrating your on-premises business applications to the cloud can be incredibly exciting and will be perfect for your unique needs but can feel daunting when going at it alone. An experienced partner can help guide you on your journey, ensuring you have a strong plan.
Our Dynamics 365 Migration Program enables on-premises customers to simplify and accelerate their move to the cloud. The program offers access to a migration assessment, pricing offers, tools, and migration support for qualified customers. Get expert help to move from Dynamics CRM to the cloud.
Before you "break ground" on your cloud migration, however, there are three core aspects to consider in your cloud journey; budget, requirements, and location.
1. Budget:
It is crucial to calculate the total cost of ownership, including IT costs, upgrade costs, and server costs to avoid any surprises. See the Forrester TEI study for Dynamics CRM to learn what other customers have found when making the cost comparison.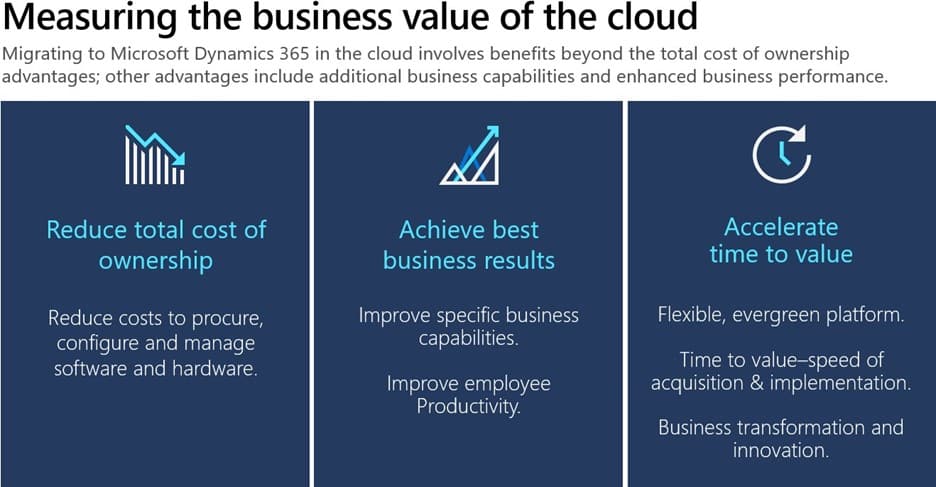 2. Requirements:
When migrating to the cloud, it is an opportunity to refresh, evolve, or completely get rid of your old business practices that don't make sense anymore. Do you still want that big file cabinet when you can store things securely online? To fully understand what it will take for you to migrate your existing on-premises data, customizations, integrations, and functionality to the cloud, you should sign-up for a migration assessment. The assessment will give you deep insights into what it will take in terms of time and effort to migrate to the cloud. Learn more here.
3. Location:
With Dynamics 365 you can access cutting-edge technology, control costs, and improve IT productivity by migrating to the cloud. Dynamics 365 offers physical, infrastructure, and operational security with Microsoft Azure. It also offers scaling to the desired capacity to accommodate a variable number of users. Learn more about all the benefits of migrating from Dynamics CRM to Dynamics 365 in the cloud.
Migrating your on-premise customer relationship management (CRM) to the cloud can be exciting and nerve-wracking at the same time. It is very important to fully consider all the costs, design aspects, and platform features before you can determine the best migration path for your company. With our migration program, customers like you have already benefitted from our migration assessment. It is the first step to help you understand the value of cloud migration and how to get there.
Migration is an important decision, do it right to minimize risk. Spanish Point is here to guide you throughout the entire process. Get in touch with us today at sales@spanishpoint.ie