According to Gartner's projections, by 2025, as much as 70% of applications will be developed using no-code/low-code technology, including AI. Gartner also foresees a significant shift in the composition of development teams within large organisations, with "citizen developers" – individuals without formal computer science backgrounds – outnumbering traditional developers. This shift empowers virtually anyone to build their own applications, offering significant advantages to your organisation.
Instead of relying heavily on programming, low-code development platforms—also called low-code application platforms—simplify app development features such as drag-and-drop functionality and visual guidance. This means every member of your organisation, regardless of their technical proficiency, can create low-code applications. This not only results in time savings, better efficiency, and heightened productivity but also allows for a focus on applications requiring the most attention, such as customer experience apps and process automation apps. Low-code development platforms make it possible for nearly anyone to become an app developer.
While you may need to be an application development expert to begin, a valuable suggestion is to kickstart the process with a prototype. Prototyping plays a critical role in the development journey, allowing you to validate ideas, gather user feedback, and identify potential issues or improvements before committing to a full-scale application. By creating a prototype using low-code development platforms, you can quickly and cost-effectively test your concept and ensure it aligns with your organisation's goals and user needs. This iterative approach minimises risks, maximises efficiency, and ultimately results in a more successful and user-friendly final product.
In this article, we will introduce you to Microsoft's Power Platform and Power Apps, showcasing how this low-code platform can help even the least experienced citizen developers build prototype applications.
---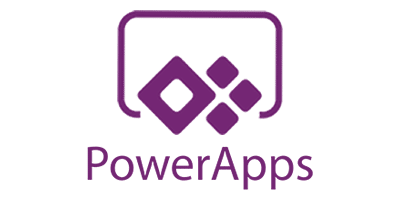 Ready to embark on your journey of no-code application development and prototyping with Power Apps and AI Builder? Take the next step and register to our Power Apps Bootcamp:
---
Power Platform and Power Apps: The Key to Low-Code Success
The Power Platform, a product suite from Microsoft, offers a collection of low-code development tools that simplify the process of creating custom business applications, all without requiring extensive coding knowledge. Within this suite, you'll find Power Apps, Power Automate, and Power BI, which work together seamlessly to facilitate the rapid development automation of business processes and real-time data insights.
Among these, Power Apps is a standout feature. It provides a user-friendly interface where you can design applications using a simple drag-and-drop approach. This makes it accessible even for users with limited coding experience.
What's especially impressive about Power Apps is its ability to connect to a wide range of data sources and third-party APIs through connectors. You can easily integrate data from different systems, databases, and cloud services into your applications. Whether you need to fetch data from your CRM system, connect to an external cloud service, or interact with an on-premises database, Power Apps has the tools to streamline the process.
AI Builder: Adding Intelligence to Your Applications
AI Builder is one of the additional features of Power Apps. With AI Builder, you can add intelligence to your apps, regardless of your coding or data science expertise. Users can create custom AI models for tasks like object detection, form processing, prediction, and text classification, even if they lack extensive technical skills.
It has a range of features and capabilities, making it ideal for citizen developers:
1. Model Training and Deployment: AI Builder provides an intuitive interface to guide users through training AI models. It allows users to upload and label their data, ensuring precise model training. Once trained, these models can be easily deployed and integrated into applications, including Power Apps and Power Automate workflows.
2. Form Processing: AI Builder stands out with its form processing ability. It uses optical character recognition (OCR) to intelligently analyse documents such as invoices, receipts, and surveys, automating data extraction, reducing manual work, and improving data accuracy.
3. Object Detection: AI Builder lets organisations add object detection features to their applications by training AI models with labelled images. This helps identify and track objects within images or videos, benefiting various fields like inventory management and security surveillance.
4. Prediction Models: AI Builder allows businesses to create predictive models based on historical data. Organisations can gain insights into customer behaviour, sales forecasts, and demand predictions using machine learning algorithms, aiding decision-making and operational improvement.
5. Integration with Power Apps and Power Automate: A notable feature is its seamless integration with Power Apps and Power Automate, expanding its potential. Users can directly include AI models in applications and workflows, simplifying automation and intelligent data processing.
To sum things up, the Power Platform, Power Apps, and AI Builder offer a powerful environment for prototyping applications. These tools empower organisations to efficiently test concepts, gather user feedback, and identify improvements, all while staying aligned with their goals and user needs. This iterative approach minimises risks, maximises efficiency, and ultimately results in more successful and user-friendly final products. Whether you're a seasoned developer or just starting, these tools provide the necessary resources to efficiently bring your innovative ideas to life.
Get in touch with our Power Apps team to start empowering your organisation.