Microsoft Viva, the new employee experience platform designed to help people connect, focus, learn, and thrive at work.
In 2020, the way people work evolved rapidly. Businesses have transformed to meet the needs of their customers and empowered their employees to make decisions and act faster. Today, many businesses have adapted to hybrid work; now, they need to make that approach more sustainable. Microsoft Viva is built on Microsoft 365 to bring together communications, knowledge, learning, and insights into an integrated employee experience that empowers people and teams to be their best' from anywhere.

The importance of employee engagement is well known to executives, but changing conditions have led to burnout and isolation, making it harder for employees to feel connected and inspired at work. As a leader, you want to ensure the success and wellbeing of your workforce, but many are struggling to provide an engaging, supportive employee experience.
Introducing Microsoft Viva Connections
Viva Connections is your gateway to a modern employee experience. It is personalised and appears in the apps and devices your employees already use every day, such as Microsoft Teams. Viva Connections gives people a curated, company-branded experience that brings together relevant news, conversations, and other resources. Viva Connections offers a new way for leaders to shape culture and invite employees to participate in building an inclusive workplace that helps everyone succeed.
Keep everyone engaged and informed
Effective communication is essential to a healthy business, but with so many channels, information overload is a real thing. It's easy for critical information and updates to get lost in all the extra noise. The most successful companies are those that share and build on the collective contributions of their employees. Microsoft Viva makes it easy for everyone to discover the information they need, participate in the conversation, and share their unique perspective and expertise.

Viva Connections delivers a unified, personalised feed in which employees can explore news and contribute to the conversation from virtually anywhere. You can publish content from popular Microsoft 365 apps, such as SharePoint, Yammer, or Microsoft Stream, to a single feed and post the external news and content you want employees to see.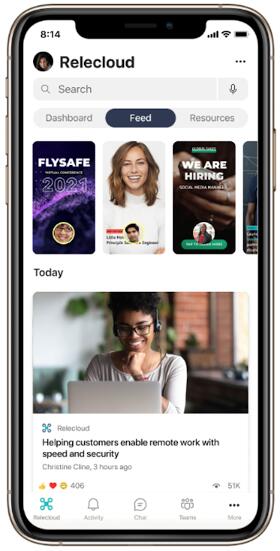 Curate a personalised and branded employee destination
In addition to the feed, Viva Connections provides your employees with a personalised dashboard so that they can stay in the flow of work. The dashboard is the company home for employees, and it is designed to be the central destination where everyone can discover company resources and complete tasks.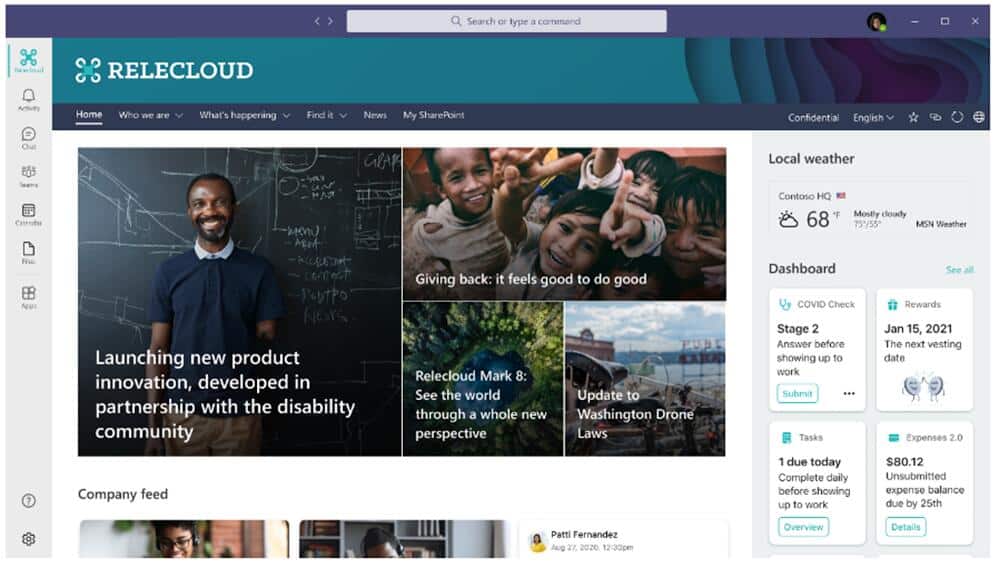 Extensible to fit your business
Viva Connections builds on the power and momentum of the Microsoft Teams ecosystem and extensibility framework. You can easily create a card for any existing Teams app, or you can do more by using familiar Microsoft developer tech, from low-code solutions such as Microsoft Power Apps to custom solutions with SharePoint Framework (SPFx) and Adaptative Cards. You can also plug in third-party partner apps.
Deploy Viva Connections on your existing infrastructure
Viva Connections is built on your current Microsoft 365 ecosystem, and powered by SharePoint, so you can accelerate time to value and start engaging your workforce immediately:
Extend your SharePoint intranet content, including your home site, into Microsoft Teams.
Target your content based on your existing Azure Active Directory groups.
Customise your dashboards with Power Apps, SPFx, and the third-party solutions you have already deployed throughout your organization.
Aggregate news and conversations from SharePoint and Yammer.
Drive engagement in employee communities in Yammer to support employee resource groups, knowledge sharing, and leadership initiatives.
Pin files and videos from Microsoft OneDrive and Microsoft Stream.
Get ready for Microsoft Viva Connections
Microsoft Viva is your new integrated employee experience, empowering everyone to be their best. Viva Connections will be available for desktop in the first half of 2021 and for mobile in summer 2021. Additional features will roll out over the course of 2022. Learn More
---
Spanish Point provide strategic guidance, advisory services, implementation, adoption, and change management, contact us for more information!
---