This month, Power BI reporting features focus on accessibility and flexibility when formatting your charts. With filtering and sorting options now available, out data view is now more powerful. Several connectors also get major updates this month, including a new driver for our SAP Business Warehouse connector that comes with numerous significant improvements.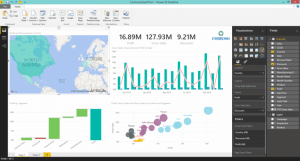 Register to our upcoming Power BI Bootcamp and training to learn more or check more Power BI info here
The following updates are new to the Power BI Desktop for June 2018:
Reporting:
High contrast support for reports.
Donut radius control.
Pie and donut detail labels position control.
Format data labels separately for each measure in a combo chart.
Longer phone reports.
Custom Visuals:
Modeling:
Filtering and sorting in data view.
Improved locale filtering.
Data connectivity:
SAP Business Warehouse connector improvements (new driver and improved performance, plus improved support for hierarchy variables).
Spark connector now supports Windows Authentication.
OData V4 connector enhancements.
ODBC connector improvements (folding support for Top Rows, ability to filter navigation by DSN catalog).
Other:
Sovereign cloud selector.
See video below for an in-depth discussion of the newest features:
Find out more information here and read the original blog post from Microsoft.