Azure Virtual Desktop allows you to access your desktop and applications from virtually anywhere. You can set up Azure Virtual Desktop in minutes to enable secure remote work. Provide the familiarity and compatibility of Windows 10 with the new scalable multi-session experience for your end-users and save costs by using existing eligible Windows licenses. Manage your end-to-end Azure Virtual Desktop deployment alongside other Azure services within the Azure portal.
Other great value and benefits available in Azure Virtual Desktop:
Deliver Windows 10 desktops and applications virtually anywhere: Provide employees the best virtualized experience with the only solution full optimized for Windows 10 and Microsoft 365
Built in intelligent security: Help keep your applications and data secure and compliant with security capabilities that can proactively detect threats and take remedial action
Deploy and scale: Simplify deployment and management of your infrastructure and scale quickly based on your business needs. Deploy Azure Virtual Desktop in minutes with the new onboarding experience which validates requirements, kicks off an automated deployment and implements best practices.
Cost Savings: Access to Azure Virtual Desktop is available to you at no additional cost if you have eligible M365 or RDS CAL licenses – you only pay for the Azure resources you consume. Additionally, Azure Virtual Desktop can bring significant savings in Infrastructure across compute (paying Linux compute rates), networking and storage, as well as lower labor costs with compute and storage moving to the cloud
Supported transition to Windows 10: With extended support for Windows 7 ending, get free extended security updates for your Windows 7 virtual desktop. This includes more support options for previous app versions while you transition to Windows 10.
App Assure: Microsoft is committed to ensuring your apps work on the latest versions of our software. If you encounter any issues during your migration of apps to Azure Virtual Desktop and Windows 10 multi-session (whether virtualized apps running on Windows Server or on Windows 7 or 10 desktop/client device VDI environments), we will help you remediate them at no additional costs.
30% off Compute Costs for Bs and D Series VMs for Azure Virtual Desktop Host Pools
The goal of this offer is to help customers who are embarking on their journey to desktop virtualization through Azure Virtual Desktop in order to achieve a secure and remote work environment for their employees as well as ongoing business continuity.
This promotion allows new Azure Virtual Desktop customers to save 30% of the computing costs in D-series and Bs-series virtual machines for up to 90 days when using Microsoft's Azure Virtual Desktop native platform and activated before December 31st, 2021.  Eligible customers can activate the promotion directly in the Azure Portal in just a few clicks.
The benefits and eligibility for this promotion include
30% discount on the computing costs in D-series and Bs-series virtual machines that are used in Azure Virtual Desktop host pools
Available to customers deploying on Microsoft's Azure Virtual Desktop Native platform
Activation must occur before December 31st, 2021 and is for a 90 day consecutive period
Customers must be deploying into the Azure Commercial Cloud (not Azure Government)
Only one subscription per billing scope is eligible for the promotion
You can learn more about this promotion and how it will appear in your Azure portal on Azure.com and additional information on Azure Virtual Desktop can be found here as well as through this video.  
If you'd like more information, please don't hesitate to contact us at sales@spanishpoint.ie
---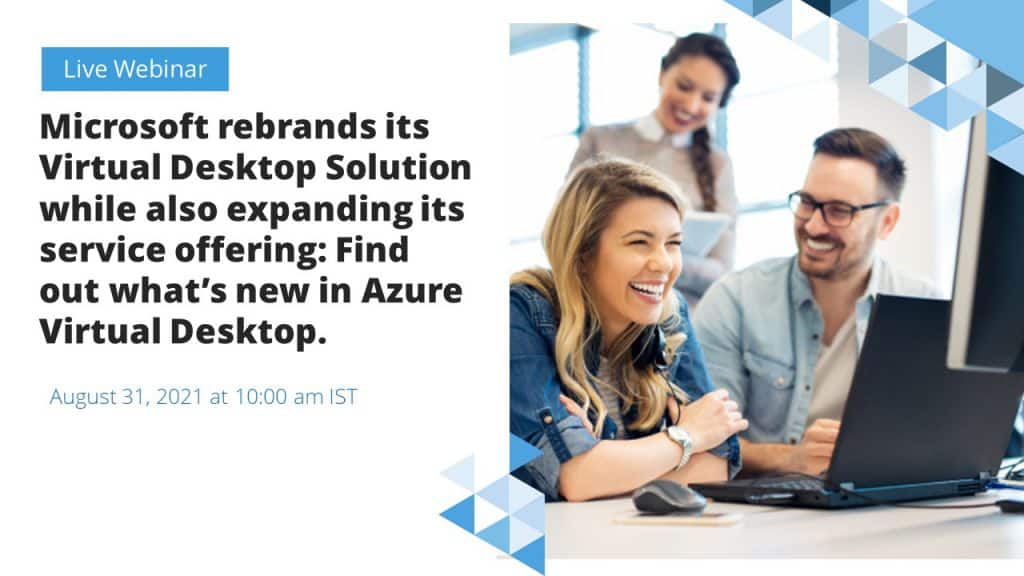 Join our upcoming Webinar on the 31st of August
---