Enterprise data continues to grow in volume, variety, and velocity but much of this data is not analysed. Businesses are under significant pressure to turn data into timely and trustworthy insights, while also maintaining regulatory compliance requirements. But to truly get the insights you need, while keeping up with compliance requirements, you need to know what data you have, where it resides, and how to govern it. For most organisations, this creates arduous ongoing challenges, and we want to help you overcome them.
Azure Purview is a unified data governance service that sets the foundation for data governance across your operational and analytical data estate. Let's dive into what that means for your organisation.
Manage and govern your data with Azure Purview
Azure Purview enables you to map, catalogue, understand, classify, and manage your operational and analytical data, whether on-premises, across your multi-cloud environment or within SaaS applications. With Azure Purview Data Map, you can automate the metadata scanning of on-premises, multi-cloud, and SaaS data and applications so that you can find and classify this data using built-in, custom classifiers, and Microsoft Information Protection sensitivity labels. With Purview Data Catalogue, you can now search, understand the underlying sensitivity, and view how data is being used across the organisation with data lineage.
Building on the power of Microsoft Information Protection
Microsoft Information Protection, a built-in, intelligent, unified, and extensible solution that understands and classifies your data, keeps it protected, and prevents data loss across Microsoft 365 Apps, services such as Microsoft Teams, SharePoint, Exchange, Power BI, third-party SaaS applications, and more.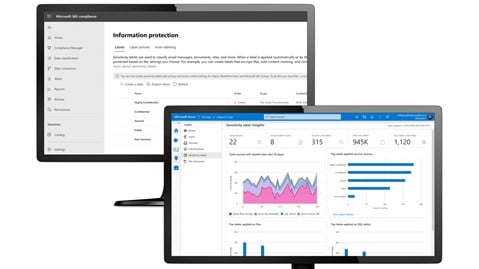 A well-planned deployment of a data governance platform (such as Azure Purview), can give the following benefits:
Better data discovery
Improved analytic collaboration.
Maximized return on investment.
During your data governance journey, you need to bear in mind that as head of IT, you will need to:
Identify the objectives and goals from your organisation.
Understand the specific requirements of isolated groups and data domains across the organisation.
Include the right stakeholders.
Identify Key Scenarios
Identify your approach to move to production.
Once you have established the foundation for effectively managing and governing your data with Azure Purview you will get the most out of your investment. You can also get up and running with Azure Purview with help from Spanish Point. Recognised as DevOps Partner of the year for 2020, within our Azure Data Analytics Practice, we have expert engineers that can guide you and your team to ensure you're on the right path of your data governance journey.
If you want to find out more about Azure Purview, download our gated asset.