Returning to work, whether that means starting work again after a period of furlough, or returning to the office, will involve change for many; and that may be stressful. To help ease the transition back to work, Spanish Point has developed a PowerApps Desk Booking App designed to help businesses protect their staff as they return to work. We recognise that this is a difficult time for businesses and want to do our part to help.
We have built this app so that it can be used by most businesses that have Office 365. After three months of the release of our Book a Desk app, it has been downloaded by over 60 companies worldwide. The Book a Desk app solution is a free to download solution and available to every organisation.
The purpose of the app is to enable users to book their desks in advance when they want to go to the office. As part of the booking process, users can see if desks immediately next to them are booked for that day. If they are, they can then consider booking from an available pool of hot desks or working from home on that day to maintain social distance. Organisations have a responsibility to keep track of what people are in the office and who they are in proximity to as they get people back to work. This app can help you track all bookings and makes them available in a secure way through Excel.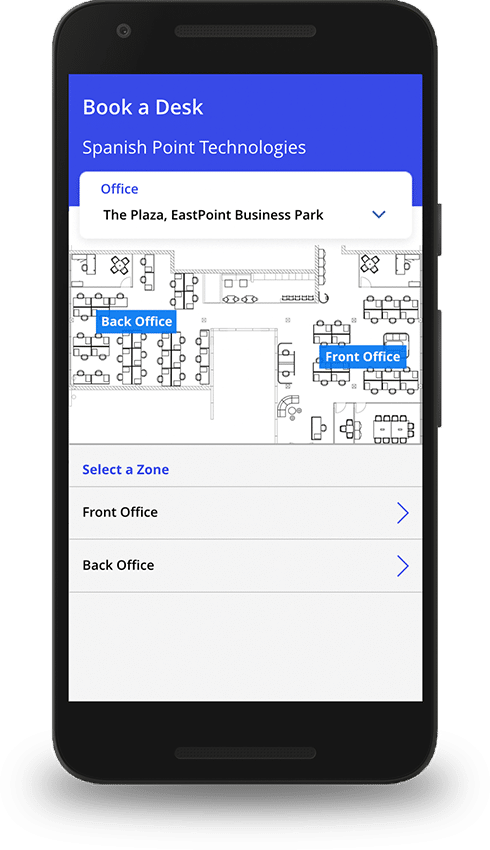 For more information about how our Book a Desk Apps works.
Apart from making social distancing easier, the app also allows you to keep track of who is in the office on a specific day. It helps companies keep a record of staff in the office for a period of 20 days, as required per the guidelines from HSE, and makes them available in a secure way through Excel. This means that, if anyone should contract COVID-19, it will allow companies to help the HSE more efficiently with contact tracing
Our Book A Desk gives employees an opportunity to plan ahead, giving them more flexibility to divide their time between working in the office and from home, enabling all users to easily book a workspace, locate colleagues and manage bookings.
For further information or any questions about the Book a Desk App, you can email sales@spanishpoint.ie or register below to request the information pack and details around downloading the app for free!
---
How to get the App?
---