Following the release of our Book a Desk App three weeks ago, Spanish Point has helped ease the transition back to work across three continents.
During the pandemic, thousands of people around the world switched from their regular office environment to working from home. Tools like Microsoft Teams have helped many organizations maintain strong collaboration among employees. Today, discussion concerning remote working being a permanent part of the new normal is all over the internet.
Working from home does not suit everyone's lifestyle and it forgoes some of the benefits that accompany working in the office. Whether remote working is part of the new normal or not, many organizations have decided to slowly open their offices again. HR managers have encountered the challenge of bringing employees back into the office while facilitating a healthy and safe environment and following government guidelines.
To help employees return to work safely and ease the transition, Spanish Point have developed the Book A Desk app, a low code PowerApp solution which is both flexible and easy to customize. After three weeks of the release of our Book a Desk app, it has been downloaded by over 25 companies with circa 85,000 employees, across three continents helping to facilitate social distancing and follow Covid-19 guidelines. The Book a Desk app solution is a free to download solution and available to every organization.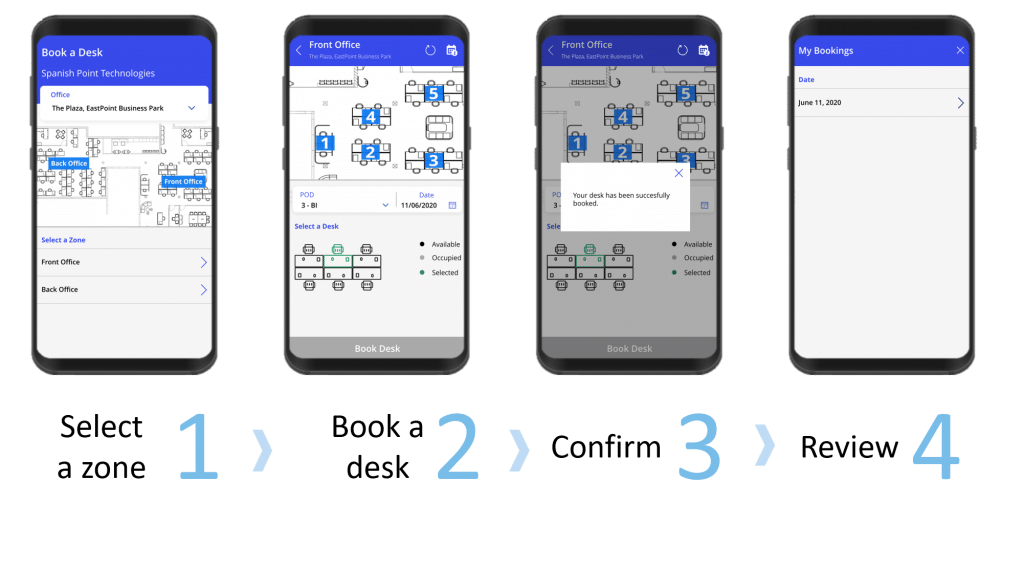 How does it work?
The app allows the user to go online or on their mobile device and book their desk for the day. As part of the booking process, users can clearly identify which desks are free and which ones are in use for the day. If they are booked, they can then consider booking from an available pool of hot desks or working from home that day to maintain social distance.
Any customer with an Office 365 E3 subscription should have everything they need in place to be able to use the app. It is an easy to use app where you can configure the layout of your office, identify buildings, floor plans and desks at system setup. Office administrators can easily add or delete areas and end- users can select from multiple office buildings and swipe through multiple floor plans within an office building.
The Book a Desk app has provided employees with the opportunity to plan their time between working in the office and from home, enabling all users to easily book a workspace, locate colleagues and manage bookings.
---
For further information or any questions about the Book a Desk App, you can contact us at sales@spanishpoint.ie or request the information pack and details around downloading the app for free at www.spanishpoint.ie.
---