The days of collaborating via e-mail with attachments or storing our working documents on a file sharing are long gone. Today, we have a plethora of new tools, methods, and channels for faster, easier, and more secure collaboration. But it's not just the technologies that have evolved; our workforce has changed as well, possibly even more than the tools. Millennials' digital workplace requirements are vastly different from those of Baby Boomers. We no longer always sit in cubicles together; our teams are scattered all over the world in different time zones, and we frequently work from home or other locations rather than in the traditional office. There is no longer a single collaborative tool that fits all sizes. That is, until now.
Microsoft 365, which includes Teams, SharePoint, and OneDrive, is designed to be a universal toolkit that provides integrated and flexible ways for your team members to work on their projects and tasks. When you're collaborating in real time, it is a great time-saver to easily access files that are important to your project. Files shared on Microsoft Teams are available right where you are having conversations and meeting, and your team can own them together. Documents shared in Microsoft Teams are stored in SharePoint, so you get the best of both worlds.
You can communicate through threaded and persistent chat and keep everyone in the know. In Microsoft Teams, you can also privately chat with any contact, even when they're offline – that's especially convenient when your contact is in a different time zone. With persistent conversation history, you can start and continue exchanges at any time. Use private chat to co-author a document in real time and to continue collaborating after a call. You can even pin important chats for easy retrieval.
Every Teams channel has a SharePoint team site, and every SharePoint team site has a Teams channel. SharePoint is great for storing files in the cloud and making them accessible to a broad audience. And, you can take advantage of robust file permission management, document process flows, retention policies, and more.
Here are ways to work with SharePoint:
Collaborate on files in Teams, create pages, use a shared notebook, and use the integrated Office 365 group to bring together conversations, calendars, and tasks.
Spread ownership and permissions across a wider collection of people. If a document is important to the success of a project, it's a good idea for there to be people other than yourself who can control what happens on the site.
Grant permissions on a site basis, instead of on individual documents. If people have access to the team site, then they have access to documents stored in the site.
Create attractive and effective site pages to organise information, post news, provide contact information, and provide navigation to documents, media, and other types of information.
Personal files or documents that only you are working on can be securely stored on OneDrive. Think of it as your personal repository – a cloud version of My Documents. Files are always in sync and available to access even when you're offline. With OneDrive, your files are always with you and ready to share. In terms of longevity, OneDrive ​is great for work in progress.​​​
How to take advantage of OneDrive:
You want to share individual files with just a few people, or not share at all.
Documents you place in OneDrive are private until you share them. You can share files individually and work on Office documents with others at the same time. This makes OneDrive for work or school a great option for draft documents that no one else needs to see. For example, you're writing a blog post that may not be associated with a project, and you'd like a few colleagues to review it before you post it. In this case, you expect people to use the document once without needing additional storage or context information. All they need is a link to the document and editing permission. Additionally, you can comment on documents and use the @-sign with someone's name, and the person you mention receives mail with a link to your comment.
Post a file from OneDrive to a Teams channel for review.
You can't identify an existing team site where your document belongs, and you don't think the purpose of the document warrants creating a new one.
---
Collaboration in Microsoft Teams is extremely valuable and empowering for communication, discussions, and projects. Work together, even when you're apart, with secure cloud file sharing. Store, share, and edit files within Teams in a familiar experience with built-in access to SharePoint, OneDrive, OneNote, and productivity apps.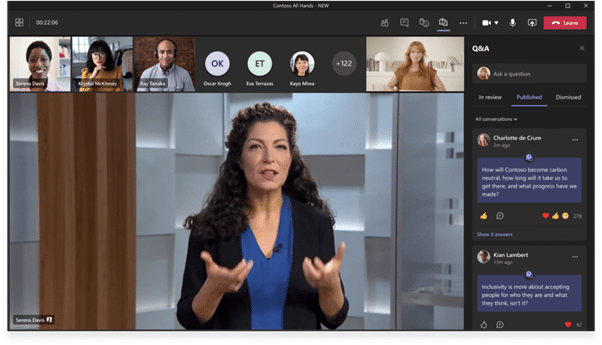 Ready to get started with Teams?
---