Dublin 07 April 2014 – Spanish Point Technologies Ltd., a leading software company working with Microsoft Technologies, is helping the Irish Defence Forces with its ongoing ICT project to deliver Information and Knowledge Online (IKON). The new enterprise-wide system which consists of a fully integrated web platform will improve collaboration and provide information, knowledge, document and records management. The solution will significantly improve operational effectiveness for all formations and units of the Defence Forces.
The Irish Defence Forces has an approved strength of 9,500 members spread across the Army, the Naval Service and the Air Corps. Members of the Defence Forces are based both in Ireland and across the globe on international peacekeeping missions.
Today, the Defence Forces (DF) operates in an environment in which information is a primary resource, and therefore a key enabler for the conduct of operations. The Defence Forces recognised the need to address Information and Knowledge Management in response to the rapidly changing information requirements which impact on a modern professional military organisation.
In 2008 the DF began extensive research around the area of information sharing and knowledge management. After years of education and what has been recognised internationally as industry leading research, the Defence Forces are implementing the ICT element of their project using Microsoft SharePoint 2013 and Microsoft SQL 2012.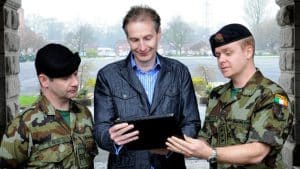 Pictured (l-r) are Sergeant Kern O'Neill, Defence Forces, John Corley, CTO, Spanish Point Technologies and Captain Barry Byrne, Defence Forces
Spanish Point Technologies Ltd. who are a Microsoft Certified Gold Partner, was chosen to work closely on this project as it educates members of the Defence Forces how to utilise the technology.
This new solution enables members of the Defence Forces to communicate effectively, from any DF location and share information and knowledge on a single unified platform. It will considerably increase productivity and deliver significant cost-savings by improving the access to timely information and therefore improving the decision making capabilities of key personnel within the organisation. This will deliver the DF's stated IKM policy goal of "enhanced information exploitation and information superiority using a collaborative, information-sharing, networked environment."
Deputy Chief of Staff (Sp) of the Defence Forces, Rear Admiral Mark Mellett, said; "A huge amount of research and time went into this IKON project. This represents a major step forward for the Defence Forces; it will enable both improved communication for our personnel at home and overseas, and improved access to information which will enable better decision-making in a shorter timeframe, bringing about significant cost, and sometimes lifesaving efficiencies."
John Corley, CTO, Spanish Point Technologies Ltd. said with the formations and units that exist within the Defence Forces, the quantity and variety of documents which they possess, and the multiple locations in which members are situated in, it was clear to see the requirement of the organisation. The Microsoft SharePoint and SQL server solution will enable the Defence Forces to improve work efficiencies. Our expertise in the software world in particular, with Microsoft technologies such as SharePoint, endlessly allows us to meet the necessities of our customers, much like that of the Defence Forces."