Microsoft Azure is outperforming other cloud providers by being 14 times faster and costs 94% less. More importantly, the wide range of data management, data warehousing, data storage and business intelligence solutions can help handle increased and varied datasets to improve insights.
---
Want to learn more about Microsoft Azure Streaming Data? Sign up to our Azure Data Analytics and Machine Learning Bootcamp and Training!
---
Microsoft commissioned Forrester Consulting to conduct a Total Economic Impact™ (TEI) study and examine the potential ROI enterprises may realize by deploying Azure Analytics with Power BI. Forrester interviewed four customers and surveyed 364 others who are currently using a mix of Azure Analytics and Power BI solutions. The study found out that 85 percent agreed or strongly agreed that well-integrated analytics databases and storage, a data management stack, and business intelligence tools were beneficial to their organization.
According to the Forrester study, analytic solutions are largely built on the Azure platform. This way it is easier to combine and process data from disparate data stores, such as cloud-based repositories, on-premises servers, Excel files, and more. Microsoft's solutions like business intelligence (BI) and analytics tools, effectively and efficiently turn data into actionable information.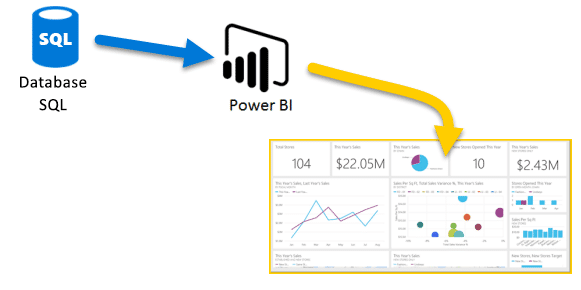 The study also found that moving to Microsoft's solutions resulted in a lower total cost of ownership (TCO) compared to previous solutions. Some key benefits shown in the study are representative of those experienced by the companies interviewed and applied to a composite organization with 20,000 employees.
Quantifies Benefits
Improved analytics delivers tangible business benefits. Better and more timely analysis and decision making as a result of using Azure Analytics with Power BI. These benefits include increased revenues, decreased operating and supply chain costs, and faster entry into new markets.
Moving to Microsoft results in a 25.7% lower Total Cost of Ownership (TCO). The TCO includes all efforts to implement and manage the solutions, as well as the solution costs. Interviewees from the Forrester report, said that alternative solutions cost as much as four times what they ended up spending by moving to Microsoft. A sizable component of the savings is realized by moving large portions of the infrastructure to the cloud.
Human resources are more productive. A wide range of IT professionals, including database administrators (DBAs), data scientists, and infrastructure support become more efficient as a result of the time savings that Azure Analytics with Power BI provides with its better tools and automation.
Unquantified Benefits.
Overall system performance improves in absolute terms and on a performance per dollar basis. Interviewees and survey respondents say that overall system performance has improved, in terms of processing time and scalability.
Security and compliance improvements. These improvements are achieved through a mix of solution features at the data level as well as role-based access control (RBAC) user permission capabilities.
Download the full report below: