If you just started using Power Apps, you might find it a little overwhelming to create an app from a blank screen. You might have an idea in your mind, but perhaps you haven't fully thought through all the details and information you need to create an app.
In this blog, regardless of your background or how much you know about app development, learn how to convert your ideas into a fully working solution by using Power Apps.
Identifying the business problem to solve
The first step in using Microsoft Power Platform to solve a business problem is deciding what problem you want to tackle. If you're making your first app with Power Apps, think about your business and the work that you and your team do day to day, and identify a business problem that you currently are using a manual process to solve.
Potential use cases for automation are gaps, complaints, or inefficiencies that exist in your current work environment. Processes that still require paper or email, and processes that require manually moving data from one place to another (from email to a database or from one spreadsheet to another), are likely candidates for solving with an app.
It's good to know how the app you have in mind might benefit your colleagues and your boss, especially when you need to ask for cooperation when making or using the apps. The list below shows the kinds of issues that can be solved by the platform:
Availability – Accessing apps at anytime, anywhere
Mobility – Allowing people to work with an app while on the move
Consolidation – Gathering data in a more automated way to minimize manual consolidation
Training – Getting people up to speed and tracking their training results and certifications
Democratization – Enhancing the ability to self-solve problems within the department or section
Inclusion – Reducing friction for employees who have different work environments from other employees (such as remote workers or people with disabilities)
Efficiency – Reducing time required to get the desired outcome, reducing unnecessary steps
Productivity – Increasing the throughput of a process
Timeliness – Increasing the speed of end-to-end collaboration among different stakeholders
Scalability – Allowing more throughput
Analysis – Gathering required additional information, storing it in such a way that allows for easier analysis
Reporting – Enabling faster or more complete reporting to management
Security – Securely storing and working with data
Compliance – Solving issues around handling personal information, meeting legal or accounting requirements
Sustainability – Reducing waste (such as paper and electricity) and pollution
Example: Expense reporting
The example below shows how a typical paper-based expense approval within the organisation has inefficiencies for multiple departments and employees.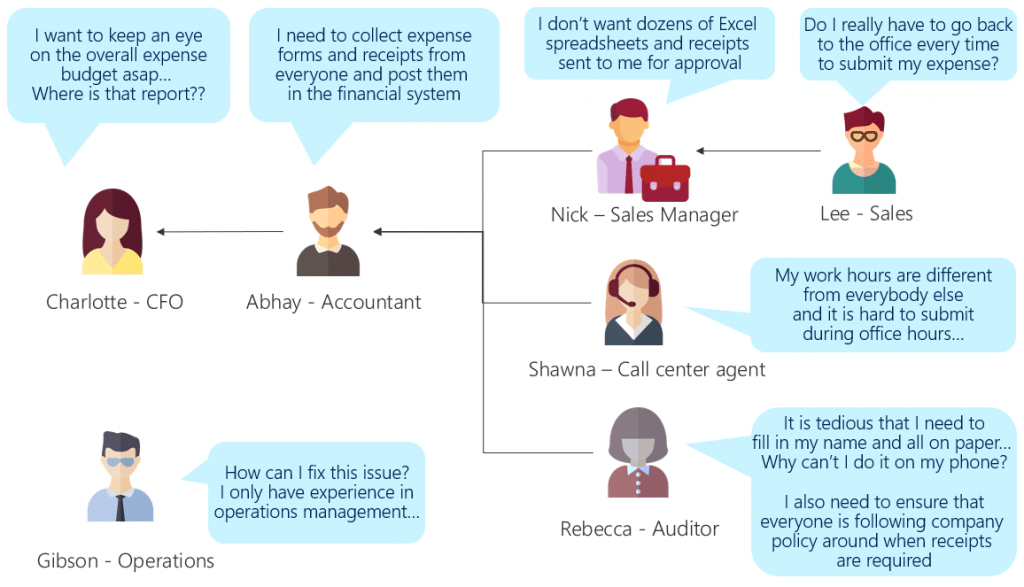 As you can see from the example, every person has their own issues, but the common issue here is that the expense approval process is done on paper, which is tedious and difficult when creating reports. This is an ideal problem for Microsoft Power Platform to solve, because the paper forms can be re-created as Power Apps screens, approval can be set up in Power Automate, and data analysis can be done in Power BI.
The business problem the team has decided to solve is:
Expense reporting: Create a process that's efficient for employees and the accounting department, allows faster budget tracking, and reduces our exposure in audits.
---
Building apps with Power Apps helps everyone from business analysts to professional developers work more efficiently together. Solve business problems with intuitive visual tools that don't require code, work faster with a platform that enables data integration and distribution, and extend the platform with building blocks for professional developers. Using Microsoft Power Apps, Spanish Point will help you connect your data from the Cloud & develop Business Applications that work on any phone, tablet and browser without writing any code.
---