In today's digital landscape, the relentless flow of data emanates from the devices we interact with, the applications we develop, and the connections we establish. This dynamic has spurred organizations across diverse industries to leverage this data as a catalyst for digital transformation and a source of competitive edge. As we venture into a new era characterized by the dominance of AI, the significance of data becomes even more pronounced.
Microsoft Fabric isn't just another tool; it's a transformative ecosystem that simplifies the entire analytics journey. From the moment data is set in motion to the intricate world of data science, Fabric covers it all. Its robust suite of services encompasses managing data lakes, orchestrating data engineering tasks, and ensuring seamless data integration – all within a single, intuitive interface.
The beauty of Microsoft Fabric lies in its seamless integration. Say goodbye to the complex task of piecing together a multitude of services from different vendors. Fabric is designed to provide an end-to-end solution that streamlines the analytics process, eliminating unnecessary complexities along the way.

Built on the foundation of Software as a Service (SaaS), Microsoft Fabric takes integration and simplicity to an unprecedented level. It's not just about using a tool; it's about embracing an experience that's tailored to your needs. With Fabric, you'll find yourself equipped with an intuitive, highly integrated, and user-friendly product that simplifies your analytics needs, helping you make data-driven decisions with ease.
In a world where data is the linchpin of success, Microsoft Fabric emerges as a beacon of innovation, offering an all-encompassing analytics solution that marries complexity with coherence. Experience the future of analytics – experience Microsoft Fabric. Welcome to a new era of streamlined insights and boundless possibilities.
Components of Microsoft Fabric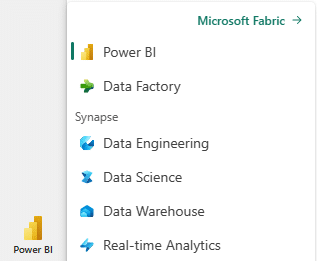 Data Engineering: Empowering Data Transformation
At the heart of Microsoft Fabric's offerings lies the Data Engineering experience. Here, a cutting-edge Spark platform collaborates with user-friendly authoring tools, equipping data engineers to effortlessly orchestrate extensive data transformations and democratize data accessibility through the innovative concept of a 'lakehouse.' The integration of Microsoft Fabric Spark with Data Factory brings forth an orchestration marvel, allowing seamless scheduling and execution of notebooks and Spark jobs.
Data Factory: Unveiling the Power of Connectivity
Azure Data Factory, a vital component of Microsoft Fabric, bridges the simplicity of Power Query with the immense power and scalability of Azure. Boasting over 200 native connectors, Data Factory ensures connectivity to a diverse array of data sources, both on-premises and cloud-based. The result is a seamless and efficient pipeline for data movement and transformation, setting the stage for enriched analytics experiences.
Data Science: The Realm of Machine Learning
For those deeply involved in the realm of data science, Microsoft Fabric offers an exclusive Data Science experience. This encompassing feature facilitates the creation, deployment, and operationalization of machine learning models within the Fabric environment. By seamlessly integrating with Azure Machine Learning, Microsoft Fabric empowers data scientists to track experiments and manage models effortlessly. Predictions derived from machine learning models enrich organizational data, enabling business analysts to integrate them seamlessly into their BI reports, transitioning from descriptive to predictive insights.
Data Warehouse: Scaling New Heights
Microsoft Fabric's Data Warehouse experience is synonymous with industry-leading SQL performance and scalability. With a unique architecture that separates compute from storage, this component enables independent scaling of both aspects, enhancing efficiency. Native storage in the open Delta Lake format ensures compatibility and reliability, making data warehousing a breeze.
Real-Time Analytics: Navigating Dynamic Data Streams
In an era characterized by the proliferation of observational data, the need for robust analytics solutions is paramount. Real-Time Analytics steps up as the ultimate engine for processing data collected from apps, IoT devices, human interactions, and more. Handling the challenges posed by semi-structured, high-volume, and dynamic data, Real-Time Analytics stands as a game-changer, facilitating in-depth analysis of this rapidly growing data category.
Power BI: Illuminating Data Insights
Last but certainly not least, Microsoft Fabric seamlessly integrates with Power BI, the world's premier Business Intelligence platform. By providing an intuitive gateway for business owners to swiftly access Fabric's wealth of data, Power BI fosters data-driven decision-making, propelling organizations towards enhanced outcomes.
In essence, Microsoft Fabric represents a visionary leap into the future of analytics. It's not just an amalgamation of tools, but a meticulously crafted ecosystem that simplifies complexities and offers a unified, seamless experience. Welcome to a new era of analytics where components merge to shape a cohesive whole—welcome to Microsoft Fabric.
Want to know more about Microsoft Fabric?