Analytics and Business Intelligence
Global research and advisory firm, Gartner, recently carried out an examination of the Modern Analytics and Business Intelligence market.
Visual-based data discovery is a defining feature of the modern analytics and business intelligence (BI) platform. This wave of disruption began in around 2004, and has since transformed the market and new buying trends away from IT-centric system of record (SOR) reporting to business-centric agile analytics with self-service. Modern analytics and BI platforms are characterized by easy-to-use tools that support a full range of analytic workflow capabilities. Gartner redesigned the Magic Quadrant for BI and analytics platforms in 2016, to reflect this more than decade-long shift.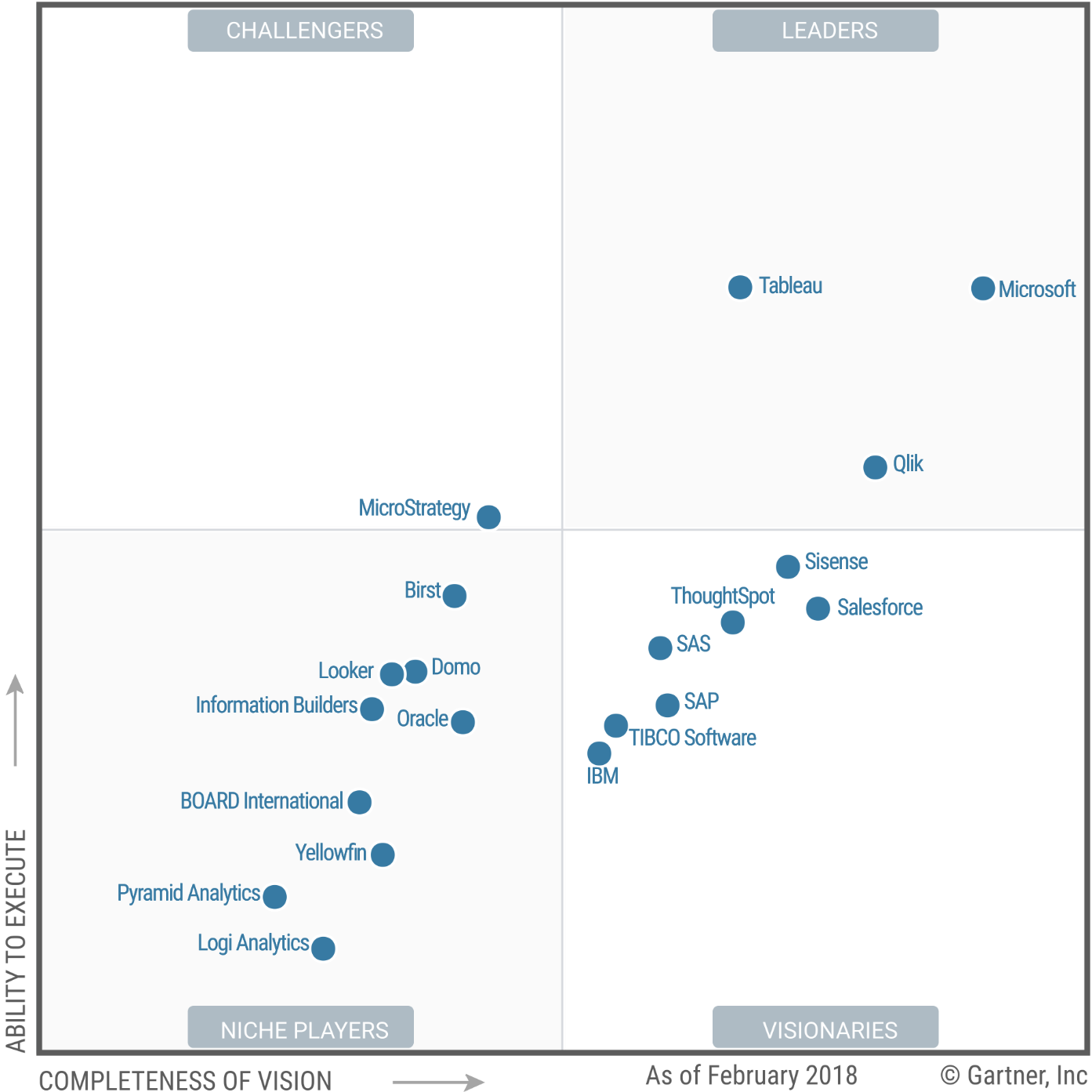 Register to our upcoming Power BI Bootcamp & Training
Microsoft #1
Gartner's magic quadrant shows Microsoft's Power BI as one of the clear market leaders in analytics and business intelligence worldwide. Power BI is business intelligence like never before. Here are four strengths outlined in detail below:
Low-priced incumbent: Many organizations own Microsoft Power BI, often through enterprise software agreements; so, even when Microsoft is not yet deployed, the vendor has changed the modern analytics and BI shortlist from a greenfield evaluation to being the incumbent. Microsoft significantly grew its subscriber base in 2017. Microsoft has put downward pricing pressure on the analytics and BI market with its low per-user and now virtual server subscription price. License cost was the second most important reason for reference customers choosing Microsoft Power BI, with 12% of them citing this as a reason for selecting it.

Ease of use and visual appeal: Microsoft's customer reference scores place it in the top quartile for ease of use, with 14% of customers citing this as the main buying criterion. Power BI's reference scores also place it in the top quartile for visual appeal. Winning customers within the first few minutes has been part of Microsoft's "five by five" strategy — five seconds to sign up and five minutes to "wow" the customer. There are a number of features within the product that contribute to its overall ease of use, including its primarily cloud deployment model. Microsoft was early to the industry in terms of a natural language/search interface with Microsoft Q&A (Question and Answers), which allows users to create a visualization using search terms.

Product vision: Microsoft continues to execute on its roadmap. Microsoft Quick Insights (a feature within Power BI) is a basic form of augmented data discovery, initially available in the cloud service. In 4Q17, however, it was also introduced in the desktop client for variance analysis — to identify what has most contributed to changes in sales, for example, from one quarter to the next. The conversational chatbots with Microsoft Cortana also are differentiators, and Microsoft Surface Hub is touch-enabled and supports the display of Power BI content on wall-size displays in executive board rooms. The ability to provide a closed-loop process from insight to action is supported by the integration of Power BI with Microsoft Flow and within its business application, Microsoft Dynamics 365. Virtual reality and Power BI integration with Holo Lens are currently works in progress.

Customer experience: Microsoft and Sisense shared the highest customer reference scores in this Magic Quadrant for achievement of business benefits. In particular, in terms of making better information and insights available to more users. The high achievement of this business benefit is enhanced by both the low price and cloud deployment. User enablement and the availability of skilled resources are other elements of the overall customer experience for which Microsoft is evaluated as above average. The vendor has a strong community of partners, resellers and individual users; and this community extends the product with prebuilt apps, visualizations and video tutorials, in addition to the content provided directly by Microsoft.
If you would like to read Gartner's full report you can find it here.