Do you want to add powerful visualisation tools into your applications while maintaining your own brand and customer experience? Power BI Embedded is an Azure service that allows ISVs to build powerful data-driven applications that provide additional value for their customers. Ease of customisation and functionality across all devices allows you to seamlessly embed visualisations while maintaining the customer experience. This can be achieved without exhausting valuable developer resources or maintaining their own BI controls.
Power BI Embedded allows you to provide your customers with powerful interactive dashboards within your application. However, there are various additional benefits for growing ISVs.
Automation and customisation reduces demand on developer resources
As an ISV, developer time is one of your most precious assets. This makes Power BI Embedded the perfect fit for rapidly growing ISVs as, out of the box, it can be customised and managed. The customer views visualisations within your native application. With branding customisation available out of the box, the customer will not feel like they have left your application environment when viewing Power BI features. Additionally, authentication, reports and dashboards themselves can be automated and customised. Through Power BI Embedded, you can achieve all of this without exhausting valuable developer resources. Microsoft provides REST APIs and SDKs to further reduce the amount of coding required. This is accompanied by extensive developer documentation.
Impress your customers and make your application stand out
Power BI Embedded helps your application to resonate with customers and stand out from the competition. The powerful interactive dashboards are easy to embed and provide additional value for your customer. Customisation allows dashboards and reports to only show the information required, ensuring convenience for the end-user. Overall, customised dashboards provide improved application offering and seamless customer experience. Additional tools such as menu actions and a Q&A feature will improve your application user experience further. Regardless of what device, your customer will be able to view accurate reports and dashboards.
For some ISVs, they utilise embedded visualisation to develop products and new revenue streams. Check out this case study: https://customers.microsoft.com/en-us/story/edsby-education-technology-power-bi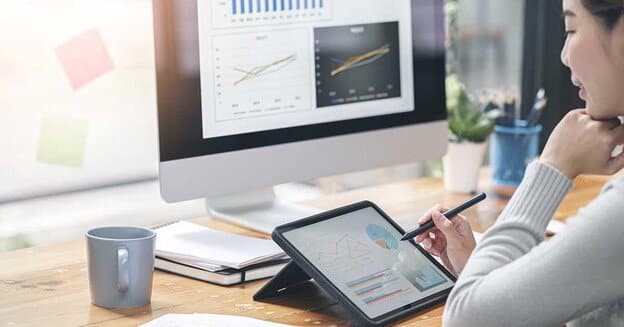 Grow your business backed by Microsoft Azure
ISVs can benefit from Microsoft's extensive investment and research into powerful analytical services. As new capabilities are released, the ISV continues to benefit as Power BI and the ISV grow together. They can be confident that their customers are viewing certified, secure and best in class data visualisations. ISVs can also benefit from Microsoft Azure's cloud capabilities as Power BI visualisations can be accessed globally across devices with the same security and accuracy.
Security and safety is easily managed
Row-level security ensures that the ISV can easily manage or restrict access to valuable data. While utilising the same application, the individual users can only access data that is granted to them. Authentication can be managed without the user realising they are accessing Power BI Embedded. Power BI's row-level security allows app data to be deployed and access granted by those with specific roles and through embedded tokens. Information can be deployed or integrated securely from any Azure application. As a cloud application, these security features are scaled up and down to meet demand.
Costs start low and scale with ISV growth
ISVs often experience rapid growth which is accommodated by Power BI Embedded. The service is set at a low price which scales up with your business needs. This is similar to Azure itself which utilises the cloud to scale. There is also the ability to manage your costs and pause your Power BI Embedded Service as you need. As your customer base grows, so too can your Power BI Embedded service.
Talk to Spanish Point Technologies
For ISVs, embedded data visualisations provide both an improved customer experience and a competitive advantage. However, through Power BI Embedded this can be achieved while minimising development costs. Talk to Spanish Point Technologies about how Power BI Embedded can integrate with your application to grow your business.