Microsoft Teams is mission-critical to this vision for a more flexible world of work. Teams is unique in that it brings together meetings, chat, calls, collaboration, and business process automation in a single app. Since COVID-19 spurred office workers around the world to work from home, Microsoft has been innovating with Teams to do things like create more natural and engaging meeting experiences, enable people to connect seamlessly with those inside and outside of their organisations, and provide ways to make remote presentations richer and more impactful.
But what COVID-19 taught us is that meeting fatigue and digital overload is real, and remote work has challenged our wellbeing. To help, Microsoft has built Microsoft Viva—an integrated employee experience platform—into Teams, so that employees can find ways to protect time and preserve their wellbeing right in the flow of their work.
In this blog, we will discuss the new innovations—in Microsoft Teams Rooms, Fluid, and Microsoft Viva—all designed to empower people for hybrid work.
Collaborate wherever you are
Unlocking better hybrid meeting experiences for everyone begins with designing for the people who aren't in the room, so that everyone feels like they have a seat at the table, whether they're joining in the room, at home, or on the go.
Over the course of this year, Microsoft will roll out front row in Teams Rooms, an immersive room layout that makes interactions feel more natural and gives in-room participants a greater sense of connection to remote participants. The video gallery has been moved to the bottom of the screen so remote participants are face-to-face with those in the room. To help everyone stay engaged, meeting content is surrounded by contextual meeting information like the agenda, tasks, and notes. Meeting chat will also be clearly visible to those in the room, so they can see and respond to comments shared through chat.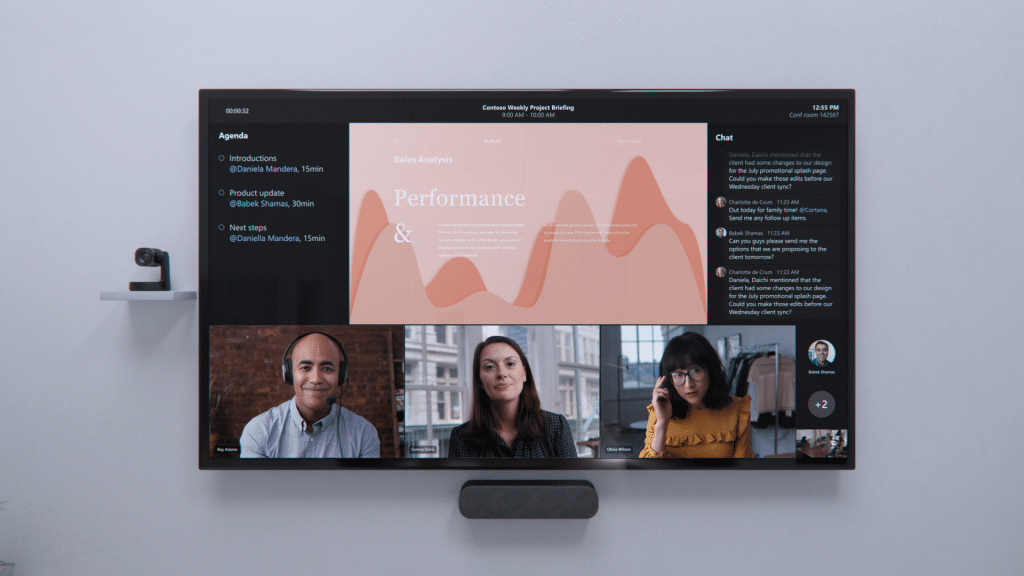 To help remote participants establish their presence in the room and maximize inclusion, Teams Rooms will expand screen real estate using new video layouts that disperse the video gallery across multiple displays when content isn't shared. The increased space means remote participants show up larger and more true to life. More features from desktop to Teams Rooms coming this summer, to help bring attention to the remote participants engaging in the meeting. These features include live reactions, spotlight, and the ability to pin multiple video streams and chat bubbles when using the classic video grid layout.
And we're thrilled to announce the new Teams Rooms on Surface Hub experience. Surface Hub is purpose-built for teams to meet and co-create, wherever they work, and the next generation of Teams on Surface Hub brings more of your favourite meetings features and controls from the desktop to the meeting room—including a modernized meeting stage, Together Mode scenes, and PowerPoint Live.
Effective hybrid meetings require every participant to be able to present and experience a presentation in a way that's engaging and inclusive. New PowerPoint Live features help to create a shared space for collaboration and contributions from everyone in the meeting. Slide translate allows attendees to see the presentation in their chosen language, for instance. And with the new inking experience, you can annotate your PowerPoint as you present—or use a laser pointer to call attention to key points.
Collaborate in the flow of work
To work effectively in hybrid and asynchronous models, people need a super-rich canvas that both creates and maintains context before, during, and after the meeting. Fluid components are atomic units of productivity that help you get your work done in the context of chat, emails, meetings, and more. Recently announced new Fluid components in chat create live, collaborative experiences that can be edited in real-time and shared across Teams and Office apps. The expansion of Fluid components for Teams meetings, OneNote, Outlook, and Whiteboard make it easier to collaborate synchronously and asynchronously across Teams and Office apps.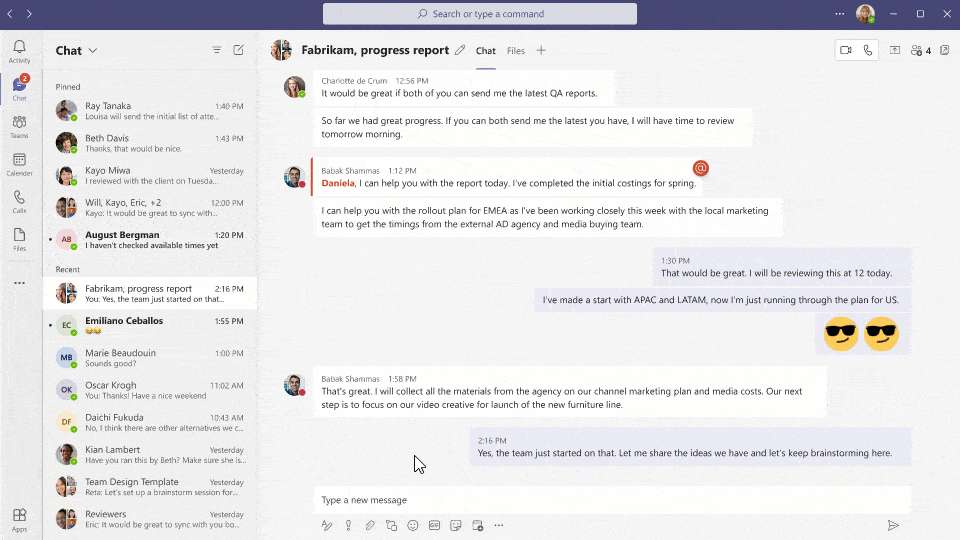 Meetings have increased significantly over the past year, along with unstructured communications. The average Teams user is sending 45 percent more chats per person per, week than they did one year ago. And ad-hoc, unstructured meetings are on the rise as well. To help manage this digital overload, new Fluid components in Teams meetings make it easy to co-create an agenda, take notes, and assign tasks, right within the Teams meeting, and access persistent recap content whenever you need it. And the note, agenda, and tasks from meetings will be automatically "placed" in the new meeting notes home of OneNote. While the meeting is underway, take the discussion a step further by ideating and brainstorming together by creating and editing live Fluid components in Whiteboard. Fluid components can also be leveraged across Outlook—in email or the calendar—making it easier to manage your time, agenda, notes, and tasks across apps.
Protect time and prioritise wellbeing
Weekly meeting time for Teams users has more than doubled since the onset of the COVID-19 pandemic. Back-to-back meetings increase stress and make it harder to stay engaged and focused. In just a few minutes a day, meditation and mindfulness with Headspace can help you reduce stress and improve focus. Starting later this month, guided meditations and mindfulness exercises are coming from Headspace to the Viva Insights app in Teams to help you start your day grounded, relax your mind before a big presentation, or disconnect from work in the evening.
---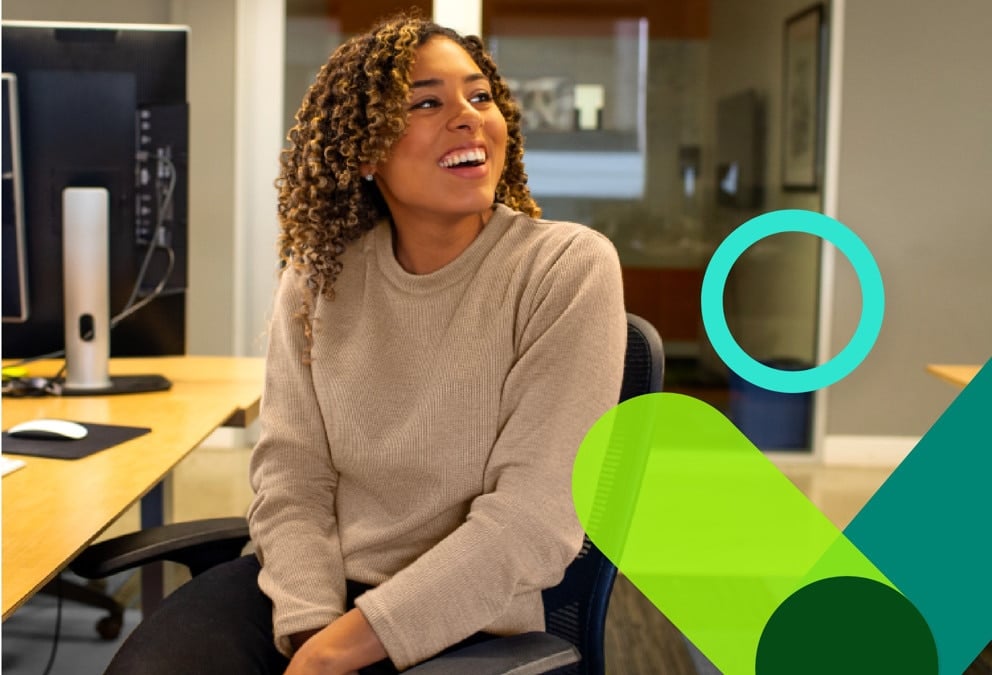 Learn about Microsoft Viva
---