If your association management software is creating more challenges than solutions, it may be time to rethink the role of your software. Today, members expect to engage with you seamlessly, fluidly, and on their terms. Achieving an efficient, integrated solution is possible, but your current system may be holding you back.
Create a Strong Hub with a CRM System
Many associations ask an AMS to function like a Swiss Army Knife, trying to roll every function into an all-in-one platform. Rather than an overflowing AMS, you need an adaptable, scalable CRM solution. A CRM system can help you build a strong hub that houses core member data and connects with best-of-breed tools for better team efficiency and successful member engagement.
CRM solutions streamline processes and increase profitability in your sales, marketing, and service divisions. A strong CRM solution is a multifaceted platform where everything crucial to developing, improving, and retaining your customer relationships is stored. Without the support of an integrated CRM solution, you may miss growth opportunities and lose revenue because you're not maximizing your business relationships.
Imagine misplacing customer contact information, only to learn that your delay pushed your client into the arms of a competitor. Or picture your top two salespeople pursuing the same prospect, resulting in an annoyed potential customer and some unfriendly, in-house competition. Without a centralised program where your people can log and track customer interactions, your business falls behind schedule and out of touch.
Microsoft Dynamics 365 offers flexibility and value
Microsoft Dynamics 365 is a powerful platform that's market-tested and truly optimised for membership organisations. With its intelligent applications that help you manage your entire business while engaging customers, Microsoft Dynamics 365 allows you to anticipate and react quickly to customer, business, and market demands. Bring intelligence into every sale, customer interaction, report, or supply chain decision.
Running a successful business is no simple task. When marketing campaigns, data analysis, meetings, customer care, and more all happen simultaneously, you need a powerful CRM solution to bring all these functions together in one place.
Dynamics 365 delivers the full spectrum of CRM through five individual apps— Sales, Customer Service, Field Service, Project Service Automation, and Marketing —that work seamlessly together. So, you can buy just what your business needs now, and add others as those needs grow.
Using Microsoft Dynamics 365, Spanish Point design and build SMART Membership Management solutions that provide organisations an engaging, tailored solution, bringing together member management, engagement, and self-service on one platform. Based on Microsoft Dynamics 365, with the features, member-based organisations require to develop and nurture constituent relationships and achieve their mission.
See the value of your relationships to your business. Contact us now
---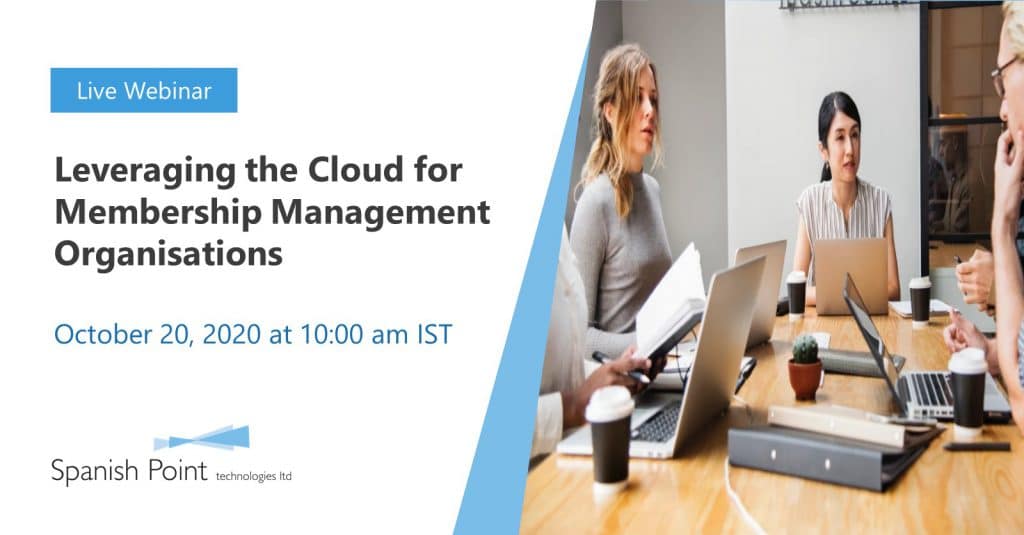 Learn more about how cloud technologies provide proven benefits for Membership Management Organisations at our upcoming webinar
---