Power BI is a tool which empowers everyone to turn data into insightful visualizations they can analyse to make business decisions quickly and confidently.
Most organisations have large amounts of data in their systems. However often they can't view this data clearly and subsequently overlook crucial intelligent insights that could make a massive difference to their business.
Power BI allows you take all your jumbled, chaotic, and unsystematic data and bring it life. Power BI tells your data story and begin offering insights in five minutes or less. Power BI allows you create rich compelling stories that perfectly visualize your data and the best thing is its right at your fingertips!
Microsoft Power BI supports rich data visualization by providing prebuilt Power BI content packs that let you quickly and easily visualize data from your favorite data services. Present your data in diverse ways by retail reports, by geography, as a three-dimensional balloon graph.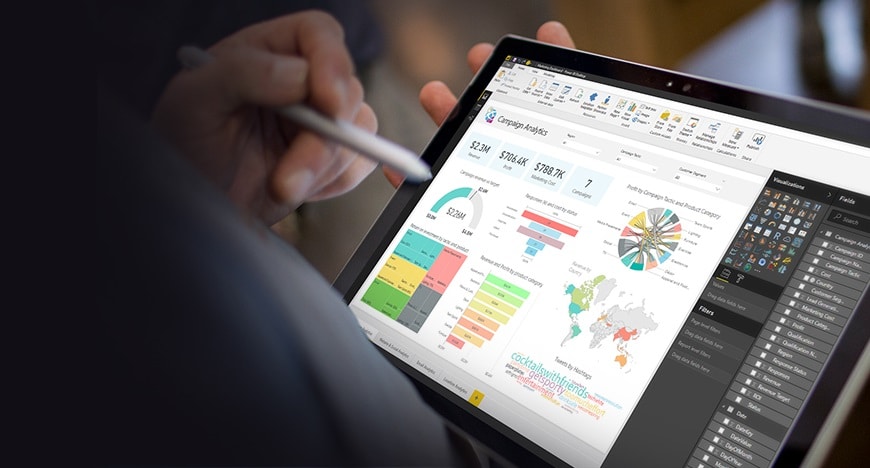 Benefits of the Power BI tool:
Get self-service analytics at enterprise scale
Reduce the added cost, complexity, and security risks of multiple solutions with an analytics platform that scales from individuals to the organization as a whole.
Use smart tools for strong results
Find and share meaningful insights with hundreds of data visualizations, built-in AI capabilities, tight Excel integration, and prebuilt and custom data connectors.
Help protect your analytics data
Gain leading sensitivity classification and data loss prevention capabilities to help keep your data secure and compliant—even when it's exported.
---
Talk to the Spanish Point Team today to get started!
Our Dynamics Lead, Mark Gullick, will be hosting a webinar on the Power Platform on December 10th, 2019!
Register for the free webinar below:
---