Microsoft PowerApps is a high productivity, low-code development platform which enables anyone to build rich web and mobile applications. PowerApps empowers everyone from business analysts to professional developers to work more efficiently together through the creation of a broad range of app scenarios which infuse digital transformation into manual and outdated processes.
What Sets PowerApps Apart:
Build and deliver apps for web and mobile without code; including pixel-perfect control over great UX, and powerful integration of forms and processes.
The Common Data Service which is an enterprise-grade data platform built into PowerApps that includes rich business logic, security models, and developer extensibility.
Connect seamlessly to 220+ data sources across Microsoft and many third parties.
Customize and extend both Office 365 and Dynamics 365, providing a single platform spanning business apps, productivity apps, and standalone apps.
Azure cloud services to scale from individual productivity to enterprise mission critical line of business applications.
Develop at scale without sacrificing quality, security, or control, leveraging enterprise-grade admin and governance features.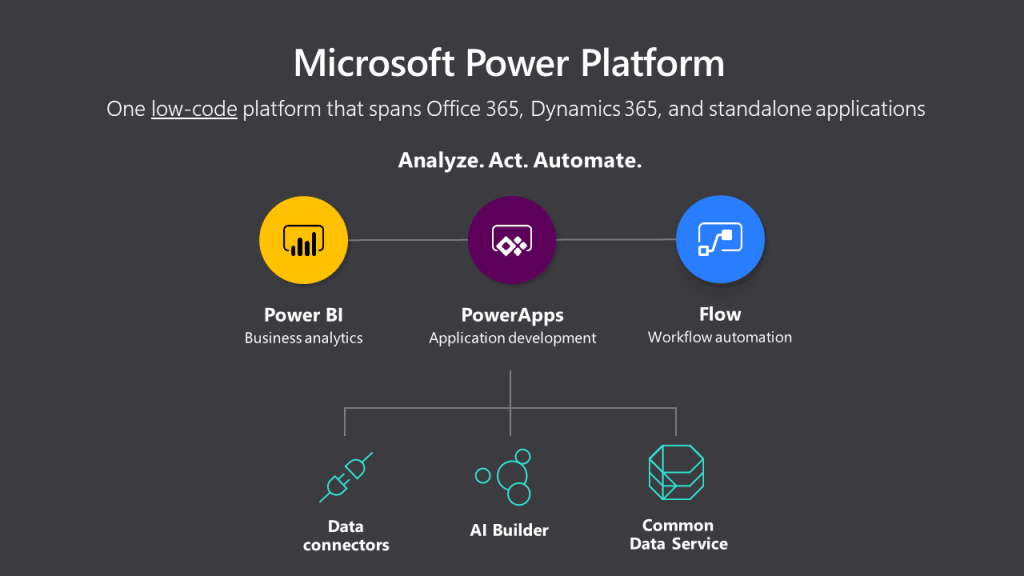 The Power Platform is a low code platform that enables organizations to analyse data, act on it through applications, and automate business processes.
AI Builder is a low code artificial intelligence platform which supports the Power Platform by allowing developers to add AI to their PowerApps. It is available for consumption on existing data in the Common Data Service (CDS). AI Builder is a platform for providing low-code user experiences to every developer to create and customise PowerApps and Flows
---
---
In June 2019, Microsoft announced some new AI Builder capabilities:
Binary Classification
Text Classification
Object Detection
Business Card Reader
Form Processing
Customer Testimonial
These human- like capabilities allow for the intelligent automation of processes and tasks. You can also tailor your own AI solutions and deploy templates which add to your existing applications.
AI builder puts power into the hands of the people who are driving your business forward with a point and click experience on a secure Microsoft platform.
If you want to learn more about how PowerApps can empower your business; Join Spanish Point Technologies' PowerApps training and bootcamp!