These days, data is coming out of everywhere. Capturing that data and turning it into intelligence allows a decision maker to act proactively and make better decisions. Microsoft Dynamics 365 is an evolved CRM tool, the incursion of AI into the Dynamics suite makes better and more useful business decisions possible.
By using Microsoft Dynamics 365 AI, Spanish Point can build a solution tailored to your company's brand and needs, giving you the opportunity to focus on your clients rather than the process.
---
If you want to learn how to empower your team by promoting personalised engagement and proactive decision making, come along to our upcoming Microsoft Dynamics 365 AI Webinar on Thursday, 20th June, presented by one of our Senior CRM Consultant, Mark Gullick.
---
To get the most out of your data, Dynamics 365 AI offers three solutions.
Dynamics 365 Customer Insights
Dynamics 365 Sales Insights
Dynamics 365 Customer Service Insights
Customer Insights
Today's customers are looking for personalised experiences and in our Dynamics 365 AI Webinar, we show you how using Dynamics 365 AI can deliver personalised experiences with a holistic view of your customers. This will help you retain customers and build loyalty by providing a remarkable experience.
Customer Insights will allow you to analyse your data and empower managers and inside sales with pre-built and embedded insights. Take a look at how Tivoli Gardens in Copenhagen, Denmark empower their employees by personalising customer engagement with Dynamics 365 AI.
Sales Insights
AI-driven insights help sellers increase conversion and win rates by using machine learning to prioritise leads and opportunities. This configuration is a no-code tool that can adapt to the evolving needs of your sales team. Sales Insights also helps you increase your network by getting secure introductions from colleagues who have active relationships with prospects, based on Microsoft Exchange Data. Take a look below how this would look on your screen.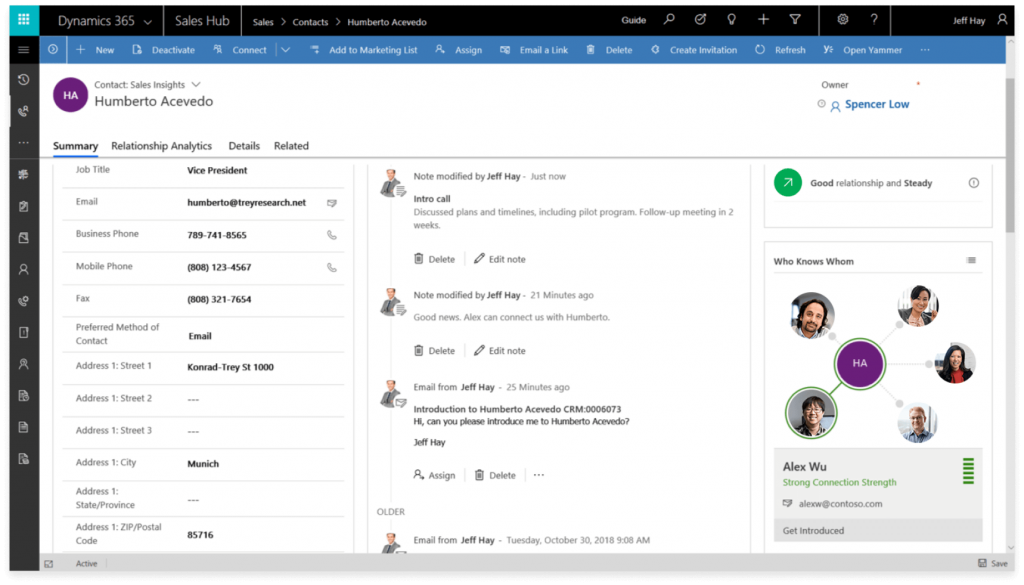 Dynamics 365 Customer Service Insights
We know that decision-making skills are crucial for efficiency. In Spanish's Point Dynamics 365 AI Webinar, our Senior Consultant will explain to you how to empower your managers to improve business performance and deliver proactive coaching.
With Customer Service Insights and AI capabilities and features, you can improve customer satisfaction, increase operational efficiency and gain comprehensive visibility.
---
Why Spanish Point?
Spanish Point Technologies has vast experience in creating integrated CRM solutions using Microsoft Dynamics 365. As Microsoft Country Partner of the Year 2019, Spanish Point combines our own knowledge with Microsoft's best practices to build solutions which optimise the relevant content to facilitate improved organisation-wide productivity.