Aisling Curtis Commercial Director at Microsoft Ireland & Donal Cullen CEO of Spanish Point
Microsoft Press Release
Spanish Point recognised for innovation in the music industry
It was also recognised for its digital transformation of major customers ranging from Prudential to ESB Networks
Spanish Point has seen a 148% increase in the use of Azure services in the past 12 months
---
Microsoft is delighted to announce Spanish Point Technologies, as its Microsoft Ireland Country Partner of the Year for 2019.
Spanish Point was selected on the back of its work that has helped transform the music industry for the benefit of artists globally. It has created unique intellectual property that identifies music and links it to its original creator, making it easier for artists to get paid royalties for their work from streaming sites. All these services are built on Microsoft Azure.
As well as its excellent work in the music industry, Spanish Point has also helped to digitally transform several major organisations, for example Prudential and ESB Networks, by helping them implement companywide intranet and document management solutions.
Spanish Point Technologies is a Dublin-based company that provides consulting and solution-build services on Microsoft's core information and related technologies. It is a top 10 partner in Microsoft's Western European region for Azure Advanced Data Services. This has been driven by its Copyright Music Industry Solution and its advanced proprietary Matching Engine.
A Microsoft Gold Certified Partner, Spanish Point is no stranger to Microsoft Awards, with this being the second time it has been named Country Partner of the Year for Ireland, adding to its success in 2016. Spanish Point was also named as Microsoft Application Modernisation Partner of the Year 2018 and Microsoft Azure Data Platform Partner of the year in 2017.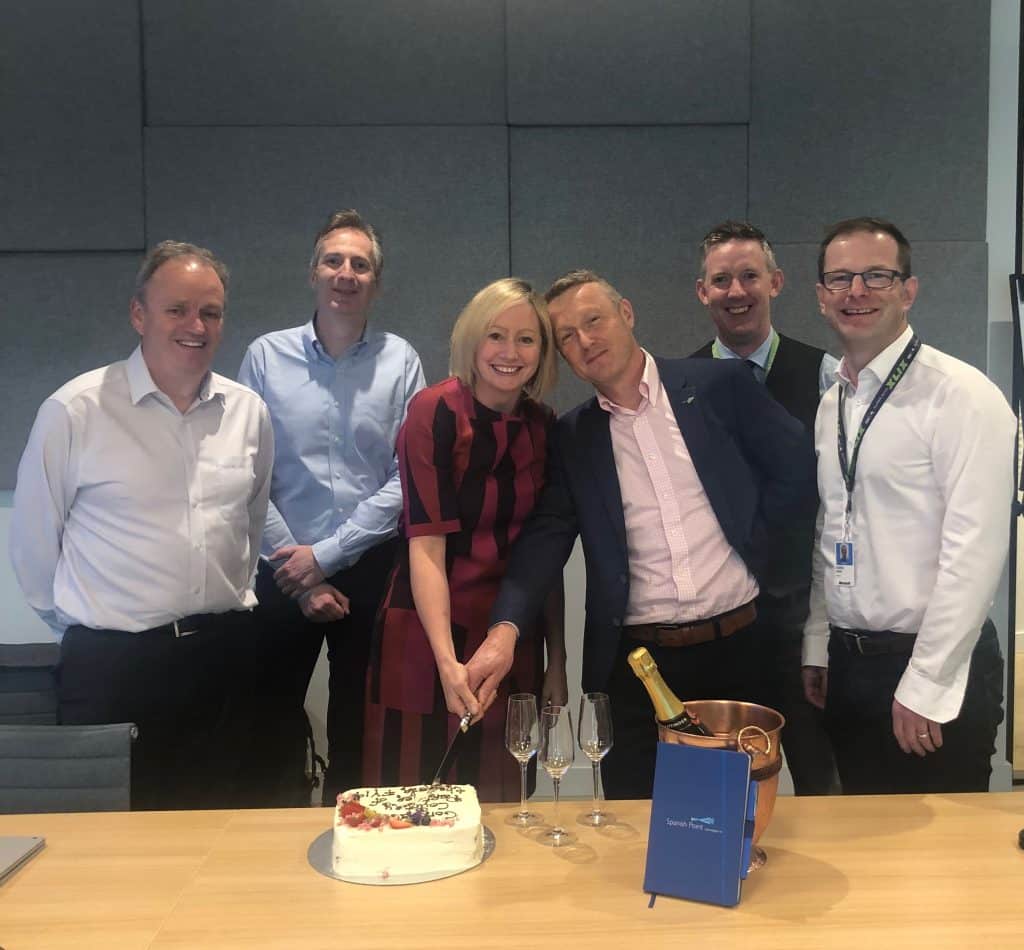 ---
Transforming the Music Industry
The music industry has undergone major disruption in recent years from the introduction of digital technology. Streaming services have dramatically increased the number of transactions from tens of thousands to hundreds of millions. This has brought with it the problem of matching millions of music streaming transactions with poor metadata against a database of millions of songs.
Spanish Point has been working with The International Confederation of Societies of Authors and Composers (CISAC) to upgrade the global information system of the ISWC (International Standard Musical Works Codes). The ISWC system plays a key role in the successful functioning of the digital music market, allowing millions of creators to get efficiently and fairly paid for their work.
The solution created by Spanish Point Technologies has enabled music copyright societies to successfully cope with this recent challenge and generate more income for its members.
Using Microsoft Azure, Machine Learning and Azure Advanced Data Services s, Spanish Point provides a high performance, cost effective solution for the music industry.
---
Transformational intranet solutions for major organisations
Providing intranet and other productivity, collaboration and document management solutions to customers is also at the core of what Spanish Point has done as a company since it was founded in 2005.
For Prudential, it assisted with the architecture, design and build for a companywide modern intranet portal and document management solution for their 50,000+ employees worldwide. It has also helped Prudential provide secure access to these employee services across a wide range of devices.
For ESB Networks, it similarly assisted in the architecture, design, implementation and training for its document management portal solution that provides network engineers with secure access to their core policies and procedures.
---
Innovation – Smart AIM & Portal
In helping organisations digitally transform, it has developed the following services:
SMART AIM (Application Innovation & Migration): is a cloud migration roadmap with associated IP that produces a prioritised list of phased work packages for an Azure cloud migration and/or deployment. It offers real benefits, from cost savings and operational improvements to a future-proof platform that allows customers to quickly take advantage of the benefits of the cloud.
Smart Portal: Spanish Point combined Microsoft best practice, global research and its own experience with customers across a wide range of commercial and public sector organisations to provide customers with a template intranet solution (called SMART Portal) together with a proven methodology to design and implement intranet solutions.
---
Spanish Point will be honoured among a global field of top Microsoft Partners for demonstrating excellence in innovation and implementation of customer solutions based on Microsoft technology, at the upcoming the Microsoft Inspire event in Las Vegas on the 14th-18th July, 2019.
For more details please see the Microsoft Inspire Press Microsite, which includes the Microsoft Partner Network blog by Gavriella Schuster and an Awards press release.