---
'Spanish Point Technologies are truly empowering people and organizations to achieve more.'
-Microsoft
---
Spanish Point Technologies are happy to announce that we received the award for Azure DevOps at Microsoft Inspire 2020.
Spanish Point Technologies was selected for this award on the back of the work we have done with the music industry and Independent Software Vendors.
Implementing a modern DevOps approach across all practice areas is very important to Spanish Point. With modern DevOps, we deliver software quicker and with less bugs and that is easier to maintain. Our customers see benefits in faster time to delivery, automated testing and more frequent feature releases. We are proud that our investment in modern DevOps, in training and retooling our teams has been acknowledged by Microsoft with this award." John Corley – CTO, Spanish Point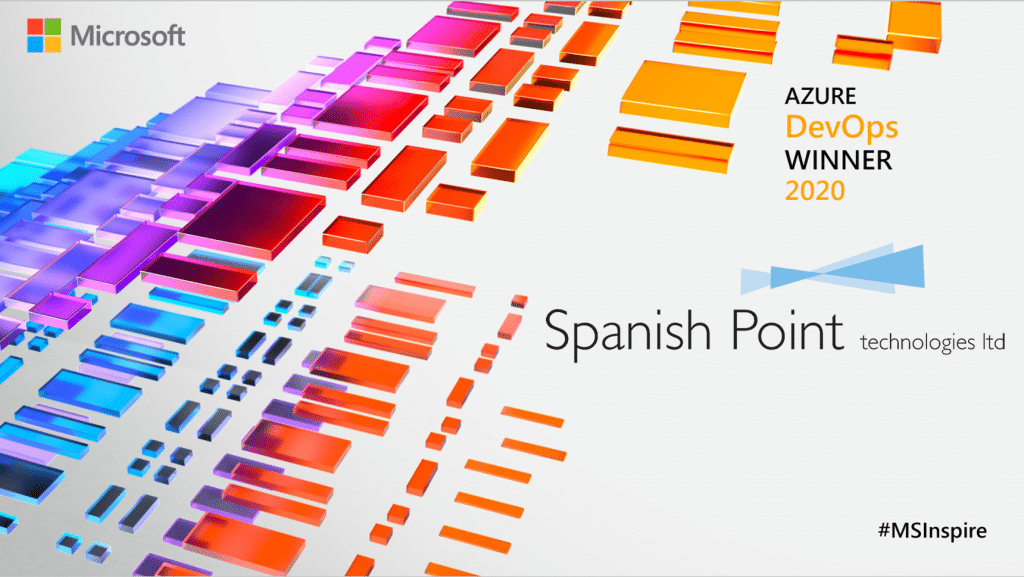 Our ISV customers are transforming their solutions with Azure and our Smart AIM cloud migration services. A key milestone on any cloud maturity model for an ISV is implementing modern Azure DevOps to support CI/CD. It has been fun and rewarding to see the benefits our ISV customers have achieved with Azure Services, Azure DevOps and GitHub. The breath of experience our DevOps professionals have gained over the past year is impressive and its great to see this recognized by Microsoft.
"The quality of the software and solutions we deliver is at the core of what we do. Speed to delivery and flexibility are key competitive advantages. Innovation in our solutions is typically cited by our customers as to why they return to us for new projects. Modern DevOps with Azure Services, Azure DevOps and GitHub brings these together. The commitment by our software developers and consultants to embrace DevOps across all our solution areas has been impressive. Retooling, retraining, getting certified and moving to full DevOps for live projects is challenging but our team have taken on this challenge with enthusiasm and professionalism. It's been great to see." – Donal Cullen- CEO, Spanish Point