Microsoft 365 Business Voice makes it easy for small and medium organisations to turn Microsoft Teams into a powerful and flexible telephone system. It's a replacement for traditional telephony providers and in-house phone systems that can be difficult and costly to manage. You can set up both toll and toll-free numbers, call menus to help callers get to the right department, audio conferencing so you can host meetings with anyone and more. You can even give people their own phone numbers so they can get calls directly.
Business Voice does all of this by wrapping Microsoft 365 Phone System features into an easy-to-manage bundle. You don't need to worry about choosing the right plan or feature; they're all there and set up for you. Because Phone System is a part of Teams, you can turn any PC, Mac, or mobile device into a phone that can use your Business Voice phone number.
What Are the Basic requirements for Purchasing Business Voice?
Business Voice is right for you if your organisation has 300 or fewer people and you have one the following Microsoft 365 subscriptions:
Microsoft 365 Business Basic
Microsoft 365 Business Standard
Microsoft 365 Business Premium
Microsoft 365 F1
Microsoft 365 F3
Office 365 F3
Microsoft and Office 365 Enterprise E1 or E3
Microsoft 365 and Office 365 Education A1 or A3
Microsoft 365 and Office 365 Government G1 or G3
Microsoft 365 Nonprofit Business Basic
Microsoft 365 Nonprofit Business Standard
Microsoft 365 and Office 365 Nonprofit E1 or E3
What Does Microsoft Business Voice Include?
The three licenses required to enable phone and conferencing services are included in Microsoft 365 Business Voice. If you have previously deployed a telephone system with Office 365 Enterprise, you may be familiar with the following three licenses:
A Phone System license, also known as cloud PBX (Private Branch Exchange), at its core, handles call routing and processing via auto attendants, call queues, and voicemail.
A Domestic Calling Plan, allowing you to make and receive PSTN calls to any number.
A dial-in Audio Conferencing Plan enables external callers to join a conference call by dialing in via a phone number and punching in an access code.
Advantages of Using Microsoft Business Voice
It provides a consistent Teams experience across a wide range of personal and shared devices, including desktop PCs and Macs, mobile apps, headsets, speakerphones, phones, Teams Rooms, and cameras.
It works from any location. Our whole team works remotely and is continuously on the go. Teams using Business Voice make it simple for outside callers to contact us no matter where we are.
Its modern auto-attendant answers incoming calls and sends them to the appropriate queues. Dial-by-name and dial-by-extension options are also available. You may also configure call routing settings to route calls based on time zone, language, or availability.
Everything is in one location in the Teams Admin Center, making it simple to roll out.
It, like other Microsoft services, is designed with security and privacy in mind. Your service is hosted in your country, and your calls and voicemails will not be routed to unknown third-party servers.
It is extendable. You can connect to your favourite contact center software or to a partner compliance recording solution.
So, there you have it, the fundamentals of Microsoft Business Voice. We've discussed the description, features, and benefits. Look no further if you believe Microsoft Business Voice is for you. We are delighted to assist. Contact us by clicking the button below to set up a quick meeting with one of our staff members.
---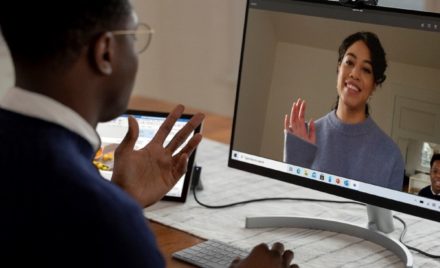 ---