Microsoft Teams facilitates a shared workspace where employees can chat, meet, share files and work with business apps. Microsoft Teams is a place to create and make decisions using many of the collaboration and communication solutions with Microsoft 365.
More than 13 million people are using Teams on a daily basis as it allows an organisation to;
Communicate more effectively
Work Better Together
Customise your Workspace
Keep your team secure
The solution is delivered in a secure manner which improves compliance, manageability and system performance. In addition, the adoption and usage of teams improves information access within an organisation and allows employees the time to focus on higher-value activities.
From a financial point of view, this reduces operating costs, accelerates time-to-market and fosters greater innovation. Microsoft commissioned Forrester Consulting to conduct a Total Economic Impact™ (TEI) which examined the potential return on investment (ROI) the adoption of Microsoft Teams can generate as well as outlined the key benefits of the solution.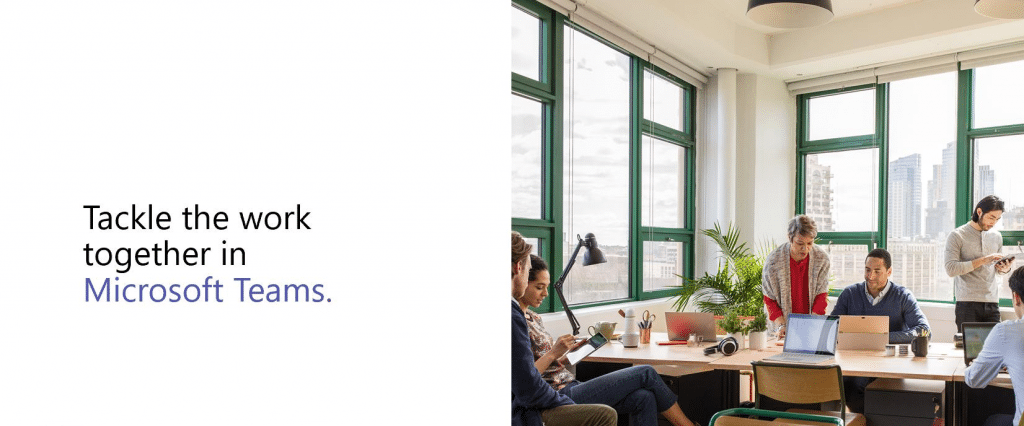 The top four benefits for implementing Microsoft Teams:
Reduced number of meetings and duration: Online meetings conducted over Teams are reliable and of very high audio-video quality. As a result, employees spend less time addressing setup and call-quality issues, and more time interacting. The total time savings equal $6.9 million.
Improved collaboration and information sharing: With Teams features like co-authoring, integrated file storage, and internal directory, information workers can effectively and efficiently collaborate in real time, saving up to 4 hours per week. The potential savings equal more than $14.3 million.
Less switching between applications: Access to 3rd party and line-of-business apps inside Teams from any device benefits all workers, especially remote workers. This creates better employee cohesion and a common corporate culture across locations saving more than 1 hour per week. The total savings are nearly $4.8 million.
Reduced downtime: When resources are available in one cloud-based location, downtime is reduced by 14.6% and complexity is lowered, making security and compliance easier. Compared to on-premise solutions, the time savings are worth $258,000 across information and Firstline Workers.
---
Download the full Forrester report here;
---
Want to learn more about Microsoft Teams?
Join our next one day Office 365 Immersion Bootcamp and Training
---