9 July 2013, Houston, Texas – Last night, at the Annual Irish Partner Awards Dinner, Microsoft named Spanish Point the Irish Application Platform Partner of the Year. This award is focused on Microsoft's application server technologies such as SQL Server and BizTalk and is awarded to the Irish partner that has demonstrated outstanding technical skills and delivered great customer projects using these technologies.
"Spanish Point have shown great passion in their commitment to Microsoft's Application Platform and in particular their investment in Microsoft's self-service BI solutions. " said Tibbs Pereira of Microsoft.
"Our team has worked hard during the year to deliver great solutions for our customers it is a credit to their technical capability that we have won this award." said John Corley CTO of Spanish Point.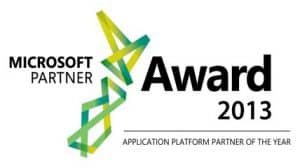 Last year Spanish Point In 2012, Spanish Point was honoured with a Gold BI Competency which recognises excellence in the field of BI.
Spanish Point have introduced various types of BI training in 2012 such as their BI Bootcamps and BI Update Webinars sharing their knowledge of BI. John Corley has also been active in the SQL Server community, speaking at SQL Server User Group Events and at SQL Saturday #229.